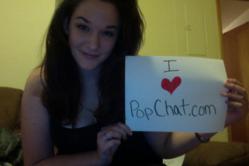 San Francisco, CA (PRWEB) October 29, 2012
Popchat.com, a popular destination for free video chat and webcam chat services, announced a launch of the new site area to focus on articles about various video chat and online dating related subjects, including tips on how to meet men and women in free video chat rooms, online dating tips and trends, top 10 Dos and Don'ts and more. PopChat.com has recently redesigned their site, improving accessibility to free video chat rooms and free cams. Having taken comments and concerns from members, Popchat has been able to create an online free video chat destination that is intuitive to use and easy to navigate without unnecessary hassle.
There are several factors involved in Popchat.com's increasing popularity as a free cams site, including the newly redesigned layout and the unique opportunity for users to use free video chat while talking with another person with similar interests. New article section of the site will help men and women to meet singles more efficiently, and will provide a necessary information to improve the odds of finding love online.
Many users of online dating services tend not to know how to approach others and start a conversation. New article section will come with many tips aimed to relieve some of the stress involved with talking with someone. Additionally, by being able to webcam chat with the other person, stress levels are lowered considerably while increasing chances of attraction - more so than what a static image and some text would be able to convey.
About PopChat.com
PopChat.com is a privately operated free cam chat and free video chat rooms service dedicated to providing a quick and easy way for people to meet each other in a casual video chat environment. It allows users to communicate using video chat, voice and text messaging in public and private video chat rooms.