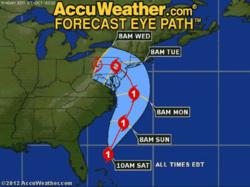 Arming community residents with the tools to report and document damage left over by a natural disaster is vital to rebuilding efforts
New York, NY (PRWEB) October 29, 2012
PublicStuff, the innovative web and mobile based public service request management system that built Philadelphia's successful Philly311 mobile app, is donating its services for free to the cities and communities in the path of Hurricane Sandy. Using PublicStuff's web and mobile platforms, residents will be able to report nonemergency service requests like roadblocks, debris and overflowing storm drains, directly to their city officials to have the request dealt with. City staff will also be able to use the mobile tools and geo-locating technology to document damage, address the issues being reported and expedite federal aid.
To prepare for the upcoming storm, residents living along the Eastern seaboard are urged to download the free PublicStuff app via their blackberry, iPhone, or Android device, to report damage and debris left over by the storm. Residents are also able to report service requests through the PublicStuff website, sms text messaging and toll free number. When reporting a service request, residents are also able to upload photos of the issue, provide comments and even share the issue with family, friends and neighbors to bring further awareness to concerning areas. The photo documentation enabled by the PublicStuff platform will further help cities to document damage left by the storm and potentially help to expedite necessary federal aid.
PublicStuff is also donating access to the backend workflow suite to local governments that are in the path of Hurricane Sandy. The backend workflow suite will allow city staff to better manage and process publicly reported requests, as well as documented damage in an efficient, organized and swift manner. These agencies may also embed the web portal on their website so residents can submit damage and cleanup requests online directly through their respective city website. For residents without internet access, they may use their mobile phones to report issues, regardless of their wireless provider via text, tollfree or through the iPhone, iPod touch, iPad, Blackberry and Android PublicStuff applications.
"Arming community residents with the tools to report and document damage left over by a natural disaster is vital to rebuilding efforts" said PublicStuff CEO & Founder, Lily Liu. "Giving residents access to city services 24/7 using the devices they already use, like smart phones, allow residents to participate in clean-up efforts. The added access to the backend workflow tools, further allow city staff to resolve and address issues more swiftly and accurately, which helps the entire community."
Government agencies can take advantage of the donated workflow system immediately by registering at account.publicstuff.com/register and entering their city name or by emailing team@publicstuff.com. A PublicStuff representative will respond within 24 hours to setup the system and walk them through the process. To access any of the public services, please visit the following links:
Online Portal: http://www.publicstuff.com
iPhone: http://www.publicstuff.com/iphone/
Android: http://www.publicstuff.com/android
BlackBerry: http://appworld.blackberry.com/webstore/content/