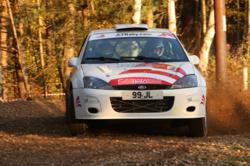 The rally attracts some of the country's leading rally drivers and this year is no different.
(PRWEB UK) 29 October 2012
World Rally Cars will be in Aldershot this weekend (Saturday November 3) and motorsport fans will be able to see them breaking the 100mph barrier in the local forests.
The town will once again play host to some of the country's leading drivers as the JLT South of England Tempest Rally leaves the starting blocks at Rushmoor Arena on Saturday November 3.
Traditionally held every November, the rally is split into two categories – one for two wheel drive cars and the second for the more powerful four wheel drive vehicles.
The Aldershot-based event will see World Rally Car drivers battling for supremacy over some of the south's most testing stages.
The rally attracts some of the country's leading rally drivers and this year is no different.
At the head of the Tempest4 field will be the Subaru Impreza WRC driven by former winner John Lloyd. Leading entrants also include Jason Pritchard who won Tempest2 in 2009 and is now bidding for 4WD success in his Ford Focus WRC.
Leading the two wheel drive rally is Russ Thompson in a Renault Clio with the top seeds also including David Harris in a Ford Escort Mk2 and Callum Black in a Citroen DS3.
Local rally drivers looking for success include Wug Utting in a Subaru and son Max Utting in a Ford Fiesta.
The rally also plays host to the British Armed Forces Rally Team with five Land Rovers competing.
Rushmoor Arena in Aldershot will be the focus of attention for spectators with the venue hosting live, high speed stages for people to see the cars in action, and the service area where everyone can get up close to meet the teams and see the support crews in action.
In addition to Rushmoor Arena spectators will also be able to catch all the action at nearby Pavilion and Warren Heath where parking is available.
"We have a cracking line up of competitors who will produce some of the best high speed action we have ever seen,'' said rally manager Barry Guess.
"Add to this entertainment for all the family at Rushmoor Arena in Aldershot and we are looking at a great day out.''
Spectators heading to Rushmoor Arena can enjoy free parking and admission is £5 per person (under 11s are free). In the forests parking is £10 per car and prices include a free event guide and entry list.
Full details, maps and entry lists are available on http://www.tempestrally.com and the rally is on Twitter @tempestrally and on facebook.
Rally details:
Central servicing will once again be based at Pegasus Village which will also feature live action on the Rushmoor Arena stage.
Action gets underway at 9am.