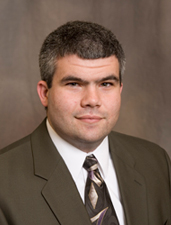 "Mark is uniquely qualified to guide Fabrisonic's direction and vision." -- Hugo Braun, Fabrisonic Board Member
Columbus, OH (PRWEB) October 29, 2012
Mark Norfolk, acting President of Fabrisonic LLC, has been selected as its new CEO. The company, founded jointly by EWI (Columbus, OH) and Solidica Inc. (Ann Arbor, MI), provides equipment and services related to the groundbreaking technology of Ultrasonic Additive Manufacturing (UAM).
Norfolk is one of the foremost leaders in UAM research and development. He has been at the helm of Fabrisonic since its inception in 2011. Prior to that, Norfolk was Program Manager for UAM research and development at EWI. He also has held numerous manufacturing and management positions at John Deere in Moline, IL. He received his MBA from the University of Iowa and his BS in Welding Engineering from Ohio State.
"Mark's leadership during the start-up phase was key to the successful launch of Fabrisonic," said Henry Cialone, President and CEO of EWI. Hugo Braun, an early investor in UAM technology and Fabrisonic Board Member added, "As the company becomes an independent enterprise, Mark is uniquely qualified to guide its direction and vision. I can't think of anyone better suited for this job."
Norfolk is enthusiastic about the company's future. "I look forward to introducing new applications for UAM through Fabrisonic's continued research, development, and innovation."
About Fabrisonic
Fabrisonic, LLC, was founded in 2011 as a joint venture between EWI and Solidica Inc. of Ann Arbor, MI. Since its founding, the company has introduced cutting-edge UAM equipment for research, development, and full-scale production environments. Fabrisonic is based in Columbus, OH. For more information, contact Mark Norfolk at mnorfolk(at)fabrisonic(dot)com of 614.688.5223.