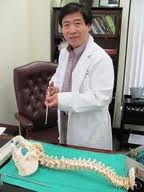 We designed our new Back & Neck Pain Evaluation Tool to provide a productive first step for patients suffering with pain to empower them take control over the problem and start working towards a solution to relieve the pain
West Orange, NJ (PRWEB) October 30, 2012
Atlantic Spine Center, a national leader in endoscopic spine surgery, announces a new tool on its website (http://www.atlanticspinecenter.com) to help patients describe their back and neck pain and symptoms prior to their first appointment. In just a few minutes a patient can complete the Back & Neck Pain Evaluation Tool right on the Atlantic Spine Center website and our patient advocates will review each case before setting up a meeting to discuss a diagnosis and potential treatment options. "We designed our new Back & Neck Pain Evaluation Tool to provide a productive first step for patients suffering with pain to empower them take control over the problem and start working towards a solution to relieve the pain," notes Dr. Kaixuan Liu, MD, PhD, chief surgeon and founder of Atlantic Spine Center.
The way the Back & Neck Pain Evaluation Tool works is in three simple steps. First patients are asked to describe their pain. This step includes a wide variety of questions for the patient to provide. Questions here focus on the location of the pain, the origin and longevity of the pain and if certain movement or positions further trigger or aggravate the pain. Additional questions are posed in this step about the types of testing (MRI, CT, etc) and treatment that has already been done. The information provided in this first step is germane towards developing an initial diagnosis.
The second step in the process asks the patient for personal background information for the surgeon to build a more complete pain and patient profile. Here the patient is asked for contact information and preferences. This step is important to allow for the most streamlined follow up once the surgeon has evaluated the case.
The third step invites the patient to share any additional information they wish and feel would be helpful and important relative to their unique case. This allows the patient, for example, to provide details on how their pain began. It also allows patients to provide any other health information that may be helpful for the surgeon in evaluating their case, for example details about other health issues or medications. The goal of step three is to provide a space where patients can include any comments, notes, instructions and questions that they want to make sure the surgeon sees.
"We are very excited about the opportunity that the Back & Neck Pain Evaluation Tool offers our current and prospective patients to start to take control of their problem," says Dr. Liu. "The feedback so far has been tremendous, with patients expressing appreciation to provide information about their specific cases for the surgeon to evaluation before the first appointment," adds. Dr. Liu.
Atlantic Spine Center treats a wide variety of conditions to the back and neck including: Bulging Disc, Disc Degeneration, Disc Tear, Failed Back & Neck Surgery, Facet Joint Disease, Foraminal Stenosis, Herniated Disc, Pinched Nerve, Radiculitis, Radiculopathy, Sciatica, Spinal Bone Spurs, Spinal Stenosis and Spondylolisthesis. Atlantic Spine Center has three office locations in New Jersey in West Orange, Edison and Union and is growing to meet the ever increasing need to provide help and solutions for people with pain due to a chronic back or neck problem.
Dr. Liu: Kaixuan Liu, M.D., Ph.D., is a renowned endoscopic spine surgeon and founder of Atlantic Spine Center. Dr. Liu is certified by The American Board of Pain Medicine and The American Board of Anesthesiology, and is a member of The International Society for Advancement of Spine Surgery, The American Society of Interventional Pain Physicians (ASIPP), The American Academy of Pain Medicine (AAPM), The International Intradiscal Therapy Society (IITS), and The American Society of Anesthesiologists (ASA). He also serves as an international surgeon for The Spinal Foundations in England.