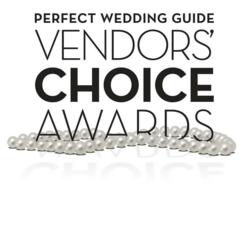 St. Louis, MO (PRWEB) October 29, 2012
St. Louis Perfect Wedding Guide, a locally focused wedding planning publication devoted to connecting St. Louis and Metro East brides and wedding professionals, is hosting the First Annual Vendors' Choice Awards on Thursday, November 15, 2012 from 6:00 - 9:30pm. The event will take place at the completely renovated Orlando's Gardens on Dorsett, 2050 Dorsett Village Plaza, Maryland Heights, Missour 63043.
Wedding professionals from St. Louis and the Metro East will enjoy a night of recognition and celebration, complete with red carpet and delicious dinner. The celebration will begin at 6:00pm with cocktails and the opportunity to mingle with some of the best in the business. The dinner will follow, catered by Orlando's Catering, during which the nominees for each category will be presented and the winners will receive the Vendors' Choice Awards.
The preparation for the event started in August, when St. Louis Perfect Wedding Guide asked all wedding professionals in the area to nominate those they considered to be the best in the industry in various categories. After receiving the nominations, a ballot was put together with a number of nominated wedding professionals in each category. The ballots have been mailed for official voting.
St. Louis Perfect Wedding Guide welcomes all area wedding professionals to join this event to celebrate the people of the St. Louis wedding industry and recognize them for a superior service to their profession. For more information about the event, please call 314-660-1433 or e-mail Kassaundra Bowman at kassaundra.bowman@pwg.com. The deadline for voting is October 31st. To purchase tickets for the event and to see the list of all nominees, please visit http://www.PerfectWeddingGuideEvents.com
About Perfect Wedding Guide:
For over 20 years, Perfect Wedding Guide has been dedicated to creating modern and stylish wedding planning solutions for brides of all budgets. Our company offers couples a number of FREE planning products to help brides and grooms focus more on their big day and stress less about their budgets. Our local guides and bridal shows are available coast-to-coast in over 60 markets nationwide, showcasing some of the country's top wedding professionals who work right in their client's backyards. Our national Website, PerfectWeddingGuide.com, includes an array of resources to glean inspiration—from fresh planning tips and ideas to an extensive photo gallery of wedding fashion to easy-to-use wedding planning tools, and even a daily wedding blog hosted by our national wedding planning expert. For more information on our products, services and advertising opportunities, visit St-louis.perfectweddingguide.com