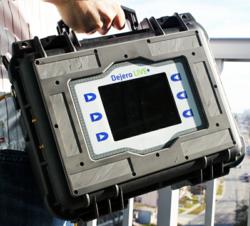 The Dejero platform integrates seamlessly into our broadcast workflow and gives us the ability to go live to air from many devices, including an iPhone
Waterloo, ON (PRWEB) October 30, 2012
Dejero, creator of the award-winning, patented LIVE+ bonded wireless uplink solutions, announces that Morris Networks ("Morris") will be phasing out satellite trucks and deploying the Dejero LIVE+ Platform of cellular newsgathering products across its television stations.
Morris owns and operates television stations in Mississippi, Georgia, Kentucky, Tennessee, and North Carolina. The group's stations include affiliates of CBS, NBC, ABC, CW, Fox, and My Network. Morris is implementing the Dejero LIVE+ 20/20 Transmitter and Mobile App to provide enhanced live news and event coverage in each of its markets.
"We tested a number of different cellular newsgathering technologies at each of our stations and selected Dejero as the consensus frontrunner due to the high video quality, ease-of-use, and flexibility of their systems;" said Dean Hinson, President of Morris Network. "The Dejero platform integrates seamlessly into our broadcast workflow and gives us the ability to go live to air from many devices, including an iPhone. Implementing Dejero's platform also provides Morris with significant cost savings over traditional transmission methods; as a result, we have elected to phase out satellite transmissions across our many markets."
"Our work with Morris Networks further validates the importance of our products in the modern newsgathering workflow," said Joe Middelburg, Vice President of Sales for Dejero. "From our flagship product, the LIVE+ 20/20 Transmitter, to an iPhone and iPad, Dejero provides television and online broadcasters with the flexibility to go live to their viewers from many devices. We are delighted to welcome the Morris stations into the Dejero family."
Dejero's LIVE+ 20/20 Transmitter enables broadcasters to transmit high-quality live HD or SD video with very low latency through multiple bonded LTE/4G/3G/Wifi connections, at a fraction of the cost and complexity of satellite or microwave trucks. Easy to operate, and with start-up time of less than 30 seconds, this next generation wireless live video transmission device packs incredible broadcast performance into a small, weather-resistant, ruggedized briefcase. Dejero's LIVE+ Mobile App can transmit live video using both the front and back cameras of the iPhone or iPad during a single broadcast, enabling a reporter to create a complete breaking news story without the need for a camera operator or extra equipment.
To learn more about the Dejero LIVE+ Platform of products, visit http://www.dejero.com or register to attend one of our webinars at http://dejero.com/news/webinars
About Dejero
Dejero, based in Waterloo, Ontario, Canada, expands newsgathering capabilities and redefines live broadcasting through its portable LIVE+ Platform of cellular newsgathering products. Dejero LIVE+ products enable both traditional and online broadcasters to transmit high quality HD or SD live video from a variety of mobile devices: professional grade rugged transmitters, laptops, tablets, and smart phones. Dejero LIVE+ products can be set up anywhere in seconds to broadcast live to television viewers, stream to the web, transmit recorded video for later use, share video content with other organizations, or send files remotely – all at the push of a button! Innovative engineering from wireless experts combined with input from experienced broadcasters have produced the Dejero LIVE+ Platform.