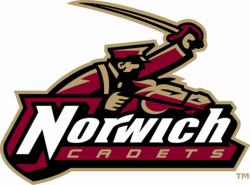 NORTHFIELD, Vt. (PRWEB) October 29, 2012
Norwich University football senior quarterback Kris Sabourin (Georgia, Vt.) has been named the Eastern Collegiate Football Conference (ECFC) Offensive Player of the Week, as announced by the league on Monday morning. It marks the second time this season that Sabourin has earned the weekly honor.
Sabourin totaled 302 yards of offense for Norwich in Saturday's 50-21 win against Anna Maria. The senior quarterback threw for three touchdowns and 143 yards on 11-18 attempts. Sabourin also ran for 159 yards and a touchdown on 13 carries.
Sabourin continues to decorate the Norwich record books, as he now holds program records in career rushing yardage, career touchdown passes, career yards per carry, and all-purpose yardage records in a game, season and career. He currently ranks fifth in touchdowns scored.
On the season, the senior playmaker has totaled 2,110 yards of offense on 1,322 throwing yards and 788 rushing yards. Sabourin has had a hand in 26 touchdowns for the Cadets in 2012, with 17 of which are passing touchdowns.
The Cadets currently sit at 6-2 overall and 3-2 in ECFC action. Norwich will take the field for the final home game of the season this Saturday at 1:00 p.m. against Maritime (N.Y.). The Cadets will honor all 16 seniors, including Sabourin, in a small ceremony prior to kickoff.
Norwich University is a diversified academic institution that educates traditional-age students and adults in a Corps of Cadets and as civilians. Norwich offers a broad selection of traditional and distance-learning programs culminating in Baccalaureate and Graduate Degrees. Founded in 1819 by Captain Alden Partridge of the U.S. Army, Norwich University is the oldest private military college in the United States of America and the birthplace of our nation's Reserve Officers' Training Corps (ROTC). http://www.norwich.edu