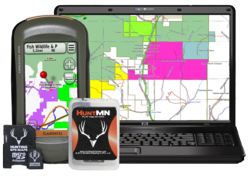 The best thing to ever happen to GPS. Ron Spomer, Outdoor Author/TV Host
(PRWEB) October 30, 2012
Hunting GPS Maps is proud to announce the release of a new map for Minnesota. The Missoula, MT based company which has become the gold standard for landownership maps in western states is now moving east. These easy to use digital PLAT maps for GPS and computer use have revolutionized the way sportsmen access and utilize public and private land.
The easy to use preloaded micro-SD chip makes it easy to view all public and private land right on a GPS while out in the field. These maps are loaded with data including: public lands, private landowner names and parcel boundaries, Walk-In Access lands, WMA/WPA areas, 24K topo, roads, trails, lake contours, boundary water data, and more.
Compatible with most Garmin GPS units, this mapping system makes it possible to discover new hunting opportunities that most people might overlook. Use the PLAT data to easily contact landowners directly for permission to hunt. The maps also be viewed on computers for advanced scouting from home, simply plug the chip into a PC or Mac to view the map on a large screen. Easily plan for a hunt by creating tracks and waypoints from the comfort of home..
Maps are updated at least once a year to make sure that the most current information is available. For more information visit a Hunting GPS Maps kiosk located at Cabela's, Scheels, or other fine sporting goods store. Or go to http://www.huntinggpsmaps.com for product info, ordering, tutorials, and videos on advanced GPS and mapping tips and techniques.