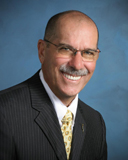 "I believe we are put in a place where we can do things," Al Kinkle says. "The position I have here at the club allows me to know a lot of people who can do a lot of good for the community."
(PRWEB) October 31, 2012
Mr. Kinkle joined Lexington Country Club, a client of Gatekeeper Business Solutions, in May of 2001 and currently serves as Chief Operating Officer. Lexington Country Club, a private club, is located in Fort Myers, Florida. Mr. Kinkle also serves as the current president of the Lee Memorial Health System Auxiliary and Chairman of Barbara's Friends – The Children's Hospital Cancer Fund. As president, the LMHS Auxiliary Board chose to give a $500,000 donation and Mr. Kinkle also influenced the Florida Club Managers Association, Everglades Region to pledge $500,000. As a consequence, a donor came forward and matched another $500,000.
"I believe we are put in a place where we can do things," Al Kinkle says. "The position I have here at the club allows me to know a lot of people who can do a lot of good for the community."
The Children's Hospital of Southwest Florida was established in 1992 to meet the growing and continuing need for comprehensive child healthcare in Southwest Florida, The Children's Hospital of Southwest Florida is part of the Lee Memorial Health Care System family. Sharing the legacy of providing top quality healthcare services that dates back to 1916, they are committed to delivering superior care to the youngest of patients, their families and community.
"Since we started our relationship with Gatekeeper back in 2004, the service has been exceptional. We really appreciate how fast their support staff responds to our needs", said Al Kinkle.
Gatekeeper Business Solutions offers a user friendly, web enabled application that creates measureable savings in labor costs, improves administrative productivity and increases revenue. Gatekeeper is also a leading provider of multiple data collection devices including labor saving biometric clocks, and a Work Time application for PC terminals allowing for ease of data input into a labor management system.
"Gatekeeper is proud to be a supporter of Barbara's Friends, and affiliated with Al who devotes his time, energy and leverages his position as Club Manager to contribute to this exceptional project to support the children and their families in need of comprehensive healthcare, said Peter Dehlinger, President, Gatekeeper Business Solutions, Inc.
About Gatekeeper Business Solutions, Inc.
Gatekeeper Business Solutions, Inc., a labor management systems company, offers a proprietary suite of software tools (lms.net), including time and attendance, scheduling, and integrated payroll software, for midlevel private and public sector companies. The company has provided a broad range of technology based solutions to manage labor costs to clients nationally. For more information, please visit the company's web site at http://www.gatekeepersolutions.com.