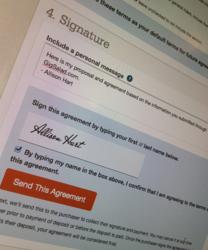 The all-in-one service simplifies contracting negotiations by providing a more efficient booking process.
Wilmington, NC (PRWEB) October 30, 2012
Gig Salad introduces a new intuitive platform for booking known as Contact to Contract. Launched on October 1, 2012 to a segment of GigSalad.com members, the new system offers a way to book and pay for entertainment services in under 10 minutes. It will be introduced to over 30,000 members on November 1.
The all-in-one service simplifies contracting negotiations by providing a more efficient booking process. Performers and service providers can create a custom quote and contract in one step, and can instantly finalize the agreement with the event planner by utilizing online signatures and a deposit payment.
Gig Salad co-founder Steve Tetrault worked together with his team of engineers for the better part of a year to create the new booking agreement system. "We initially created a booking tool which accounted for every conceivable situation a performer or event service provider might encounter in a booking. The net result was a system that was overly complex and impossible to comprehend to the average user. So, we eliminated every element we felt slowed down the booking process. In the end, we achieved a masterpiece."
Mr. Tetrault strongly believes the ease of the new system will revolutionize the way performers book dates. "The new booking system should lead to better success closing dates, and improved communication between both sides during the booking process. And because so many of Gig Salad's users are on smart phones and iPads, it was also our priority to create a flawless mobile booking experience. When designing the mobile experience, our only guideline was that it must be easy to create and sign a booking agreement using only two thumbs. We're there."
The booking system is optional to use and free of charge for all Semi-Pro, Pro, and Featured members of Gig Salad's roster. Event planners pay a 4% service fee, which covers cost associated with accepting deposits, administration of payments, and maintenance of the system. Members may opt to cover this service for event planners, if they choose.
The booking platform is expected to also be available to customers outside of Gig Salad in the weeks to come.
About Gig Salad
The Gig Bureau operates GigSalad.com, the place to book more than 30,000 local and regional entertainers throughout the US and Canada. They have worked with corporate clients ranging from Acura to NBC, and have booked all types of entertainment including Mythbusters, Kellie Pickler and The Flying Wallendas. Offices are located in Springfield, MO, and Wilmington, NC. They can be reached at 866-768-GIGS and at gigbureau.com.