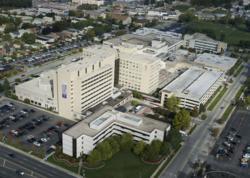 PerfectServe is giving our nurses more time with patients by standardizing communications between nurses and physicians.
Knoxville, Tenn. (PRWEB) October 30, 2012
PerfectServe announced today that Advocate Christ Medical Center has launched its comprehensive clinical communications service to standardize communications between physicians and nursing, pharmacy and ancillary teams to improve care coordination for patients.
Advocate Christ Medical Center, a Magnet hospital and Level I trauma center in Oak Lawn, Ill., is currently processing more than 2,000 clinical communication transactions each day through PerfectServe, demonstrating that it has achieved and exceeded process standardization. This is PerfectServe's fourth deployment with the 11-hospital Advocate Health Care system, which is one of the nation's top 10 health systems.
"PerfectServe is giving our nurses more time with patients by standardizing communications between nurses and physicians," said Dr. Robert Stein, vice president of medical management at Advocate Christ Medical Center. "The new system enables us to increase the number of direct nurse-to-physician communications, while giving our doctors the flexibility to best manage these according to their workflow. PerfectServe is also helping us increase physician satisfaction, recover valuable nursing time, and improve quality and patient experience."
Since PerfectServe was launched at Advocate Christ Medical Center, all the variables required for nurses and physicians to accurately determine which physician to reach at any given moment in time — and how to do so — are assembled and maintained within the clinical communication platform. These include all the communication and information delivery workflows, call schedules and contact preferences for every member of its medical staff, for every moment of every day.
Every Advocate Christ Medical Center physician — inside and outside the hospital — is connected to PerfectServe's single network platform and directory. Access is provided via a single number, or via a single Web portal and mobile Android and iPhone applications.
About PerfectServe
PerfectServe offers intelligent voice, online and mobile clinical communication solutions for healthcare. Its industry leading platform routes calls and messages to the right doctor, at the right time, in the way each physician wishes to be reached. It gives physicians complete control over their communications while enabling hospital clinicians and nurses to expedite and improve the coordination of care. Based in Knoxville, Tenn., the intelligent clinical communications platform processes more than 35 million clinical communication interactions each year involving more than 25,000 physicians. For more information, visit http://www.perfectserve.com, Twitter or call 877-844-7728.
###