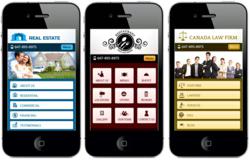 It's now an essential service for Internet marketing companies to offer mobile web solutions to all of their new and existing clients
TORONTO, Ont (PRWEB) October 30, 2012
TechWyse, a Toronto-based Internet marketing company, announced today the release of InstantMobile - an easy to use mobile website builder and mobile content management system designed to help companies create sophisticated, conversion-friendly mobile sites in minutes.
"It's now an essential service for Internet marketing companies to offer mobile web solutions to all of their new and existing clients," said DJ Kennedy, CEO, TechWyse. "The number of consumers using mobile devices to find exactly what they're looking for is rising day-by-day and it's a niche in which TechWyse sees a future demand."
Research shows 51 per cent of website visitors are more inclined to do business with retailers operating mobile websites. It's estimated mobile search will generate 28 billion more queries than desktop search by 2016 (Source: BIA/Kelsey, 2012), making it mandatory for local businesses to adopt a mobile web strategy.
Built using the latest mobile technologies, InstantMobile is compatible with all current smartphone devices including iPhone, Android, BlackBerry and tablets. Features include click-to-call, store locators, custom measurable QR codes, mobile landing pages, social media integration, Google Analytics Integration and AdLudge Integration.
One key component that sets InstantMobile apart from its competitors is its seamless integration of AdLuge (http://www.AdLuge.com), TechWyse's proprietary lead management system.
"Not only will businesses be able to satisfy their customers' needs for immediate access to essential information," said DJ Kennedy, CEO, TechWyse, "but they are also able to collect, track and report against all incoming leads, thus generating and closing more business."
InstantMobile is available for under $40 per month for a single site. This service is ideal for advertising and website agencies and offers a complete white labelled backend which can be offered to an agency client base. The mobile platform is also available in three mobile website reseller packages ranging from $250 to $750 per month, all packages come with a 30 day free trial.
TechWyse Internet Marketing uses a unique three-step full-service approach which includes development of conversion friendly websites, effective traffic building campaigns, detailed measurement, Google Analytics and heat map testing processes. The approach was developed through rigorous improvement methodology and is a direct result of market demands in the Internet marketing industry.
For more information, please contact: 1-416-410-7090
TechWyse can also be found through social media by following them at Twitter or by visiting them on Facebook.
http://www.techwyse.com | http://www.instantmobile.com