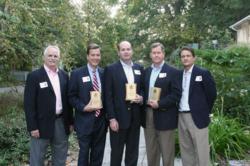 Emory Point has been designed as an environmentally friendly community, creating a healthy, vibrant place to live, work, shop and dine. Joe Wilber, Senior Vice President Investments
Atlanta, Georgia (PRWEB) October 29, 2012
The Greater Atlanta Home Builders Association (Greater Atlanta HBA) and Southface recently celebrated the completion of 24,000 EarthCraft buildings across the Southeast over the past 13 years and commemorated the occasion with an awards program that highlighted excellence within the EarthCraft program for projects completed in 2011 and 2012. This includes EarthCraft houses and renovations, multifamily units and light commercial buildings.
"EarthCraft program participants are realizing greater success than their peers because they are delivering a high value product to the market," said David Ellis of the Greater Atlanta HBA. "We celebrate their vision and their leadership."
Gables Residential, http://www.gables.com and Cousins Properties received the 2012 EarthCraft Award of Environmental Excellence for their development of Emory Point, a pedestrian-friendly community offering retail and luxury apartment residences, all in an environmentally-conscious development that is accessible from Emory University, CDC and Emory Healthcare by foot, bike, car, MARTA and the Cliff electric buses.
"We are honored to have Emory Point recognized by the Greater Atlanta Home Builders Association and Southface," noted Joe Wilber, Senior Vice President Investments for Gables Residential. "Emory Point has been designed as an environmentally friendly community, creating a healthy, vibrant place to live, work, shop and dine."
Emory Point is now open and offers tours of furnished apartment models daily. For more information regarding the luxury apartment homes or retail, please call 404-486-0671 or visit http://www.gables.com/emorypoint.
# # #
About Gables Residential
With a mission of Taking Care of the Way People Live, Gables Residential has received national recognition for excellence in the management, development, acquisition and construction of luxury multifamily communities in high job growth markets. Gables Residential owns, develops and manages multifamily communities and mixed-use developments in Atlanta, Austin, Dallas, Houston, South Florida, Southern California, and metropolitan Washington, D.C. Additionally, it has third-party management operations in the Chicago, New York, Boston, Phoenix, Central and North Florida, and Washington State markets. Gables Residential enjoys a healthy portfolio with approximately 36,000 apartment homes under management, including a corporate-owned portfolio of 54 stabilized communities comprising approximately 13,800 apartment homes. An additional 9 communities are under development/lease-up, comprising approximately 2,900 apartment homes. Gables also has the ability to develop another 2,000 apartment homes through its shadow pipeline of undeveloped land owned. For more information please visit http://www.gables.com.
About EarthCraft
EarthCraft is a green building certification program designed to address climate, energy and water issues unique to the southeastern United States. EarthCraft serves as a blueprint for energy and resource efficient single-family homes, multifamily structures, renovation projects, community developments and light-commercial buildings. Founded by the Greater Atlanta Home Builders Association and Southface in 1999, the EarthCraft program has certified more than 24,000 projects throughout the Southeast. Please visit http://www.earthcraft.org for more information.
About Greater Atlanta Home Builders Association
The Greater Atlanta Home Builders Association (HBA) is a nonprofit professional trade association dedicated to promoting, protecting and preserving the homebuilding industry as a viable economic force in the Atlanta area. Please visit http://www.atlantahomebuilders.com for more information.
About Southface
Southface is the Southeast's non-profit leader in the promotion of sustainable homes, workplaces and communities through education, research, advocacy and technical assistance. Please visit
Southface at http://www.southface.org.