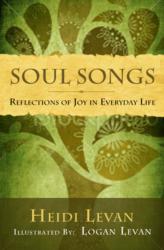 Portland, OR (PRWEB) October 30, 2012
In a life full of work demands and family routines, sometimes it is difficult to find enlightenment. But what can realistically be done about it? Soul Songs: Reflections of Joy in Everyday Life, a compilation of positive, encouraging daily reflections lifts the pressures of work and obligations and builds on small moments of joy.
Heidi Levan began writing Soul Songs to keep in touch with past co-workers through short, enlightening observations about life sent via email. Her following blossomed; colleagues and friends who were enmeshed in the stress of work, home, family and conforming to the social standards of busyness, were delighted by these messages that offered them a moment to pause, slow down, and appreciate the everyday miracles around them. Soul Songs is a collection of Heidi's soul-bearing encouragements to smile more, laugh more, dream more, love more, and to appreciate the daily opportunities to be alive.
For fans of the Chicken Soup series, Soul Songs delves deeper into how an average person can find joy and positivity. It's a realistic route to happiness and mindfulness that everyone has the power to obtain without turning their lives upside down. Through a warm tone and narrative approach, Soul Songs is thoughtful and engaging at every turn, making the entire reading experience feel like a much-needed call with a long-lost friend. 33 hand-drawn illustrations. http://www.soulsongsbook.com
About the Author:
Heidi Levan grew up on a farm near Damascus, OR. She holds a Certificate in Human Resources Management from Portland State University and is certified as a Senior Professional in Human Resources from the Human Resources Certification Institute. Heidi has worked in leadership positions in human resources for many years. Soul Songs is illustrated by her son, Logan Levan. Follow Heidi on Facebook!
Product Details:
Publisher: Langdon Street Press; 1 edition (November 22, 2012)
Paperback: 296 Pages
ISBN: 978-1-938296-10-9
###