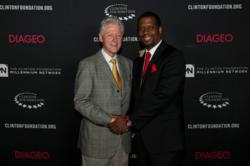 The Clinton Foundation Event was a very wonderful experience for me. It was very exciting to hear about all the good works our former President is actively 'DOING' around the planet
Hollywood, Ca (PRWEB) October 31, 2012
Bernard Bonner, CEO of Business Development International (BDI) attended The Clinton Foundation - Night Out With The Millennium Network that was held in Los Angeles, California on October 8, 2012. Mr. Bonner was also co-chair of the prestigious event. The fundraiser was hosted by President Bill Clinton, honorary chair Chelsea Clinton and Honorary Ambassador LL Cool J. Musical guest included The Ruse and Robin Thicke.
Inspired by President Clinton's vision to encourage the next generation to address global challenges, the Clinton Foundation Millennium Network invites future leaders and philanthropists to get involved in the work of the Clinton Foundation—improving global health, strengthening economies, promoting healthier childhoods, and protecting the environment.
"The Clinton Foundation Event was a very wonderful experience for me. It was very exciting to hear about all the good works our former President is actively 'DOING' around the planet" says Bernard Bonner. "Being a CEO of a Management Consulting Firm, it was very encouraging to hear about how efficient and organized the Foundation is when creating and achieving its goals and objectives. I am very happy to support The Foundation and I look forward to working with it in the future."
About Business Development International
BDI is a group of highly trained and diverse set of executives, consultants and staff with one purpose: To empower the world's small to medium-size business owners and their employees with the "know-how" using tools, training, procedures and motivation proven to provide growth and prosperity.
BDI works with clients across a number of industries. Our expertise cuts across these industries to understand the major issues that each industry faces. We use our 1-3 day analysis to quickly identify your companies specific issues and then help you address these problem areas. With our immediate hands-on expertise we help you make the shifts necessary to thrive and grow.
About Bernard Bonner
Bernard Bonner is CEO of BDI and with 25 years of experience in the fields of executive and management consulting in the construction, retail, manufacturing and transportation industries, Bernard is considered an expert in the field.
Mr. Bonner attended Texas Southern University in Houston, Texas and studied Marketing. After college, he played on the professional tennis circuit and was sponsored by Evander Holyfield, the former heavyweight champion of the world. After playing tennis for several years, in 1997, Mr. Bonner joined a company called International Profit Associates and went on to become a "Top" business analysis within the company. He was responsible for conducting a comprehensive and objective 3rd party analysis which identified all companies strengths and weaknesses and what could be done to improve them. In November of 2003, Mr. Bonner left IPA and began to work with different businesses as a consultant so he could learn exactly how to implement the theory he'd learned as an Analyst and apply it to everyday businesses to produce results. In September of 2007 after 4 years and 7000 hours of practical application and getting many businesses to function at a very high level, he opened Business Development International Inc so he can help businesses, executives and celebrities worldwide. Mr. Bonner is known as the "Business Consultant to the Stars!"