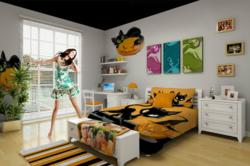 Pierre, SD (PRWEB) October 31, 2012
Ghouls and goblins, haunted houses, bats and zombies, costumes homemade from custom Halloween fabric, full moons, black cats with bent tails, and witches flying around the neighborhood on broom sticks. Is there any time of year more fun than Halloween if you're a kid? VisionBedding.com is rolling out hundreds of new customized bedding and home decor designs in time for this year's neighborhood tramps. Full of the same imagery, colors, textures, and downright spookiness of its other designs, these are sure to haunt your home decor long past October 31st.
With gleaming, grinning, carved pumpkins and little Caspers floating around, this generation of VisionBedding designs puts full moons behind turreted castles and the undead in ghostly auras walking through graveyards on custom duvets and comforters, bed sheets and blankets, VisionBedding's entire line of personalized bedding products. With the jagged edge of a golden saw for a gleaming smile in the night, and dark hands clawing at the night beneath bats in silver skies, these custom designs bring the ghoulish character and sweet treats of Halloween to your bedding.
From blankets to pillow cases, this Halloween themed gallery offers VisionBedding's customers everything from sweet apricot horizons behind warm cozy houses and bats sailing in front of cotton candy moons to pink and orange eyes in animated skulls ready to break free of the coffin and haunt the neighborhood. Whether its global customers are looking for black cats curled around pumpkins or a quilt with all of Halloween's icons drawn into its squares, this Halloween collection of clever designs leaves both tricks and treats on beds around the world.
About VisionBedding
VisionBedding.com was founded in 2006 to provide consumers with a wide choice of bedding, bath and home decor items. Using advance production techniques, customers can choose from over 15 million designs or use one of their own photos to have turned into a one-of-a-kind high quality product. Contact VisionBedding by the website contact form preferred or phone 605-222-7978.