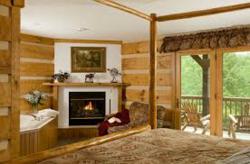 "This pass is one of the ways we like to say thank you to our frequent visitors of the lodge," says owner Deb Adams.
COOKSBURG, PA (PRWEB) October 30, 2012
The Gateway Lodge is inviting guests to take a sojourn to the forest this winter for rejuvenation at a steep discount. The Mid-Week Off-Season pass is $499 and good for up to five weekday nights (Monday through Thursday) and valid January 2 to March 21. The pass includes a Fireside Jacuzzi suite, breakfast each morning, afternoon tea, room snacks, and a nightly turn down service.
"In the middle of winter, The Gateway Lodge takes on a particular magic," says Jody Fesco, the Lodge's Events and Marketing Director. "Icicles lace our windows and the forest becomes a mystically still palace, filled with snow adorned hemlocks and pine. The sounds of chirping birds are long gone, but replaced with crunching snow beneath exploring feet, crackling fires, and the muffled awe of morning snowfall."
The 8,500 acre Cook Forest State Park is nestled in northwestern Pennsylvania. Towering white pines and hemlocks form the Forest Cathedral, a much loved National Natural Landmark. Hiking, cross country skiing, sledding and ice skating are just some of the activities available to take in the breathtaking landscape.
"This pass is one of the ways we like to say thank you to our frequent visitors of the lodge," says owner Deb Adams. "These guests come often to recharge and relax in the serene atmosphere that Gateway
Lodge offers. The midweek offers quieter surroundings, soothing spa services and a cozy and intimate dining experience."
The pass offers the perfect gift for the holidays, and can be sent directly to the recipient. Passes do not include taxes or gratuities. Multiple suites may not be reserved on the same nights and can't be combined with other specials, packages or discounts. Excluded dates are 1/21, 2/13-14, 2/18. Pass expires on March 21.
Gateway Lodge is a rustic 31-room hotel with 11 neighboring cabins featuring Fireside Jacuzzi Suites with complimentary breakfast, located in Cook Forest State Park. Cook Forest is known nationally for some of the tallest pines west of the Mississippi and is considered a natural landmark for its ancient growth trees. The original Lodge structure was built in 1934 and acts as an entrance to the dining and reception area.
The property is privately owned by Deb Adams, who believes deeply in contributing to her community.
The Lodge has partnered with area businesses to offer guests event-themed weekends and day events focused on wellness, sustainable living, creativity, conservation, and holiday entertainment. The Woods Spa is available onsite and showcases Aveda-inspired massages. Gateway Lodge Restaurant is a fine dining destination, with much of its fare sourced from local farmers. The Lodge also participates in the PA Wilds Artisan Trail by exhibiting works from local artists.