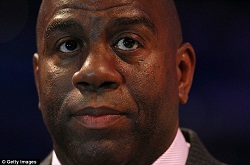 As with any civil case, the burden is on the plaintiff in such cases to prove that the employer violated the law.
Newport Beach, CA (PRWEB) October 29, 2012
Earvin Magic Johnson's former flight attendant, 45-year-old Lanita Thomas, has filed a lawsuit (case # BC494347,filed with the Central District of the Los Angeles Superior Court) against her former employer alleging age discrimination, wrongful termination and multiple labor code violations. An Oct. 25 ABC news report cites court documents, which allege that the defendants, Magic Johnson Entertainment and Clay Lacy Aviation, failed to provide her with rest, meal breaks and overtime and did not keep accurate records of her hours worked. The report states that Thomas is seeking compensatory damages for wages she was allegedly denied since she began working for the former Lakers star since 2004.
The news report states that Thomas worked on Magic Johnson's private Gulfstream jet, earning $75,000 a year and a $25,000 bonus. Her job description included catering to the basketball star's requests including stocking the plane with newspapers and DVDs and fulfilling specific meal requirement such as squeezing licorice regularly so they were soft, the report said.
Thomas alleged in the lawsuit that when she took time off in 2010 when she injured her wrist, a younger flight attendant took her place and that Johnson's demeanor grew more hostile toward her in the following months, ABC News reports. On Sept. 6, Thomas said she arrived at the plane seven minutes late after waiting at a deli to get two specific types of turkey for Johnson's sandwich, the report said. She was fired two weeks later for being "15 minutes late" for that Sept. 6 flight, according to the report. Thomas alleges that the "tardiness" argument was a pretext for age discrimination noting that she was replaced right away with the younger woman who had taken her place when she was on medical leave, the report states.
Using age as the only basis for terminating an employee is a violation of federal law, says John Bisnar, founder of the Bisnar | Chase personal injury law firm. "An employer is required to treat employees equally regardless of their age, race, nationality, religion or disability," he said. "There are federal laws that protect employees from being discriminated against solely based on these characteristics."
Employees also have a right to receive breaks for meal times and wages for overtime worked, Bisnar says. "Federal and state laws give these protections to employees so that they are not exploited by unscrupulous employers," he said. "As with any civil case, the burden is on the plaintiff in such cases to prove that the employer violated the law."
About Bisnar | Chase
The Orange County employment lawyers of Bisnar | Chase represent victims of discrimination at the workplace, auto accidents, defective products, dangerous roadways, and many other personal injuries. The firm has been featured on a number of popular media outlets including Newsweek, Fox, NBC, and ABC and is known for its passionate pursuit of results for their clients. Since 1978, Bisnar | Chase has recovered millions of dollars for victims of auto accidents, auto defects and dangerously designed and/or maintained roadways.
For more information, call 800-561-4831 or visit http://www.orange-county-lawyers.com for a free consultation.
Source: http://abcnews.go.com/blogs/business/2012/10/flight-attendant-claims-magic-johnson-fired-her-for-being-7-minutes-late/