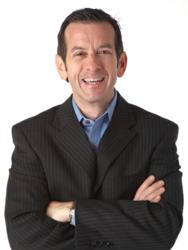 NORTHBROOK, Ill. (PRWEB) October 30, 2012
Blue Chip Marketing Worldwide, an independent, full-service global marketing agency, is proud to announce Larry Deutsch will join as executive vice president and general manager of brand marketing. Reporting directly to Blue Chip Marketing Worldwide CEO, Stanton Kawer, Deutsch brings nearly 30 years of client and agency experience to Blue Chip's roster of brand clients such as Fisher Nuts, Home Run Inn Pizza, PrimeSource and Paris Presents.
"Larry has a reputation for being a transformational leader and champion of the brand experience," says Kawer. "His collaborative approach to building brands through seamless integration, combined with his insight-driven creativity, makes him the perfect addition to our growing portfolio of brand clients."
"I am truly excited to join Blue Chip and help them continue to innovate and grow at a time when the agency is experiencing exponential growth," says Deutsch. "Their strategic guidance and creative activation uniquely delivers on the promise of uniting brands to sales that brand marketers need now more than ever."
Prior to joining Blue Chip, Deutsch served as EVP of brand experience marketing at Havas Impact where he developed brand experience strategies and innovative solutions for clients such as Humana, Reckitt Benckiser, Sonic Drive-In, Turner Broadcasting and Wells Fargo. He also worked as SVP, managing director and consumer practice leader at Jack Morton Worldwide, and EVP, managing director of Ogilvy Action, Young & Rubicam/Wunderman Worldwide where he held multiple leadership roles over 13 years, including retail marketing practice leader, client services and business strategy and development. Deutsch began his career in consulting at Technomic Inc. prior to becoming a brand manager and new product development manager for Kraft Foods, Inc. and Wm. Wrigley Jr. Company, respectively.
About Blue Chip Marketing Worldwide
Blue Chip Marketing Worldwide (http://www.bluechipmarketingworldwide.com), this year celebrating its 30th anniversary, is an independent, full-service global marketing agency that delivers results by uniting brands to sales for clients in the retail, healthcare and branding sectors. Named to the Crain's Fast Fifty and Promo 100 for the past two years, Blue Chip is a leader in shopper marketing and patient recruitment. The agency has succeeded in helping high-profile clients such as Procter & Gamble, Gorton's, Weight Watchers, Blue Bunny, Fisher, On-Cor, Biosante Pharmaceuticals, Orexigen Therapeutics and Alva Amco reach their target consumers through the creation and execution of innovative, multi-platform marketing campaigns. Blue Chip Marketing Worldwide is based in Northbrook, IL.