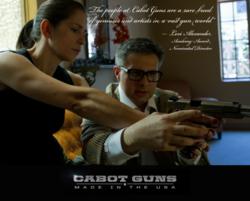 "The people at Cabot Guns are a rare breed of geniuses and artists in a vast gun world"
Cabot, PA (PRWEB) October 31, 2012
Hollywood director and writer Lexi Alexander is planning a new feature film surrounding a complex assassination game involving several wealthy businessmen. As Alexander begins working the pieces into place to develop her next film, the director selected Cabot Guns CEO and Gun Designer Rob Bianchin as Firearms Consultant.
The Academy Award nominated Director came across Cabot Guns Company while touring the NRA National Convention in St. Louis in April 2012. With the entire gun industry on display, the boutique pistols produced in Pennsylvania caught Alexander's eye.
Fans have noted Alexander's attention to detail in films like PUNISHER WAR ZONE where the director used the look of the firearms to further portray the protagonist. While selecting guns for PUNISHER WAR ZONE, Alexander purposely selected sinister-looking guns and rifles suited for that project.
Alexander's new project, however, calls for a different sort of firearm. This new project will show off beautiful handcrafted guns of exceptional quality. Cabot Guns, described as the "Rolls Royce of 1911's" by the Blue Book of Gun Values, fit the profile.
"The people at Cabot Guns are a rare breed of geniuses and artists in a vast gun world," says Alexander.
Cabot Guns President and CEO Rob Bianchin is excited to be involved in the project. "It's an honor to showcase our 100% American-made pistols in a film directed by the talented Lexi Alexander," quipped Bianchin. "Crafting extraordinary firearms is what drives us. She's challenged us to further develop guns that are both aesthetically stunning and technically extraordinary." Notes Bianchin, "We are using technology to build handguns in a way that has not been done before."
A short history on Cabot Guns: The Cabot trademark was launched on April 26, 2011. Cabot Guns produces boutique investment-grade pistols that possess peak levels of accuracy and durability. Cabot Guns are the first 1911 National Match Grade pistols that are built using technology developed for the aerospace and nuclear industries. Cabot firearms are made, tested, and even hand-polished by world-leading precision manufacturer Penn United Technologies Inc. Together with Cabot Gun they design, build and market eight model 1911 handguns, with more planned to come.
A short history on Lexi Alexander:
A former World Karate and Kickboxing Champion, German born director Lexi Alexander's debut short film JOHNNY FLYNTON was nominated for a 2003 Academy Award. Her critically acclaimed follow up feature GREENSTREET HOOLIGANS won both the Audience and Jury Award at the SXSW Film Festival, an unprecedented accomplishment.
Lexi signed on to develop Disney's LABOR DAY, before taking on her first studio directing assignment for Lionsgate and Marvel's PUNISHER WARZONE.
Longing to return to her independent film roots, Lexi wrote and directed LIFTED, a movie about a boy who struggles with his father's deployment to Afghanistan. LIFTED was acquired by SCREEN MEDIA for US distribution and has been praised by veterans' groups, political actors and intellectuals like Andrew Breitbart and Eckhart Tolle for carefully telling a politically charged story about the War on Terror.
Currently Lexi is attached to Jesmad Film's LONDON 1666, a historical action film set during The Great Fire of London, as well as Whiskey Dog Production's WUJI: WITHOUT LIMITS, a Martial Arts film set in Hong Kong.
As these projects move through development, she's singularly focused on finishing her assassination game script, consulting with the Cabot Guns team along the way.