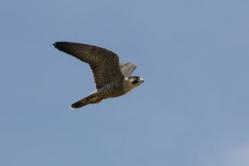 Portal, Arizona (PRWEB) October 30, 2012
As a travel company with tour participants afield, the staff of Naturalist Journeys is keeping a close eye on Hurricane Sandy, which now threatens human safety and brings challenges to travelers as well as residents: flight cancellations, road closures, and evacuations. Travelers are vulnerable as they are not in familiar terrain, and need to be particularly careful to heed local warnings. Numerous tools are at their disposal for decision making, including around the clock televised news and cell-phone alerts via Apps, and their ability to cope is enhanced by an impressive arsenal of emergency response teams.
Smaller winged travelers of the feathered kind have no such safety network. While focused on the safety of her clients, owner of Naturalist Journeys Peg Abbott fears the worst for thousands of migratory birds, poised to migrate south in the next ten days. "Low pressure systems and cold temperatures are triggers for migration," says Abbott, a veteran birding guide for over thirty years. For late-season migrating raptors, such as Red-tailed, Rough-legged and Red-shouldered hawks, Golden Eagles, Bald Eagles, Northern Harriers, and Northern Goshawks, the timing of Hurricane Sandy could not be worse. Migratory ducks and geese, particularly Brant, and Snow Geese are also on the wing.
Bird enthusiasts travel often, and migration is a strong pull to get them out. Abbott cites the timing of several large and popular birding festivals over this weekend to make her point on the storm's bad timing – as several are scheduled right in the path of the storm. The Cape May Bird Observatory in New Jersey held their 66th Annual Autumn Birding Festival, Oct. 26-28, timed with peak movement for birds of prey through the region. They kept the doors open Saturday with a full day of events, but closed the festival down Sunday to prepare for the storm and ensure that festival participants could return home safely. The following weekend the 16th annual Wings over the Water festival is scheduled at the Outer Banks of North Carolina.
Birders dedicated to keeping a list of their life-sightings are notorious storm chasers. A popular website to which such birders post their sightings, eBird – sponsored by Cornell University's Lab of Ornithology and the National Audubon Society – just issued a strong caution in an October post entitled "Hurricane Sandy - a dangerous (and intriguing) storm!" Experts anticipate that birds may be blown off course from the East Coast as far west as the Great Lakes. They distinguish between birds displaced by the storm (residents, as well as the steady flow of migrants trying to get to safe havens further south) and birds entrained within the eye of the storm itself, species such as long-winged seabirds can be literally hurled inland as they are swept up with the power of the storm.
What will the eye of the storm bring? Follow the forecasts on Birdcast, a live-time bird migration forecast, produced jointly by the Cornell Lab of Ornithology, Oregon State University and NOAA. This project portrays weekly results of studies of bird migration and weather, using Citizen Science (eBird) data in conjunction with NOAA weather forecasts using sophisticated computer modeling techniques. Several updates for Hurricane Sandy have appeared in the last few days on the site.
Abbott worries about the effects of Hurricane Sandy on several levels. "Catastrophic storms have the potential to affect bird populations for decades, both through immediate mass mortality, and by widespread destruction of habitat. For a songbird, or a Monarch butterfly, the margin of error is small for day to day existence. In migration that increases ten-fold. In the eye of a hurricane, it's simply off the scale."
Naturalist Journeys offers a wide range of nature tours around the globe. Find out more about Naturalist Journeys on their website.