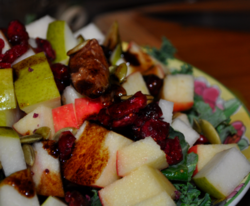 Seasonal, local, fall flavors like pears, apples and cranberries lend themselves so well to those traditional rich, savory dishes and sauces, and desserts. However, they also taste great in lighter dishes like this fantastic Thanksgiving kale salad.
Kansas City, MO (PRWEB) October 31, 2012
It's a busy week of holiday entertaining recipes with Beth Bader, co-author of The Cleaner Plate Club. Listen to her give tips and recipes for a healthier Halloween bash on KCUR's Central Standard program, October 31 at 10 am.
Then, get ready for Thanksgiving with Beth as she appears Friday, Nov. 2 at 9 am, on Better KC's program on KCTV 5, making a seasonal, healthy kale salad that is easy and perfect for Thanksgiving! The salad features kale, apples, pears, figs and a cranberry vinaigrette dressing — all the great flavors of fall and less of the Thanksgiving calorie overload! You can get a sneak peek at the healthy, Thanksgiving recipe here!
Meet Beth Bader, co-author of The Cleaner Plate Club on Saturday, November 3 at a book signing, Kansas City Store on the Plaza, 314 Ward Parkway, KCMO 64112, Saturday, Nov. 3rd, 1:30-3:30pm