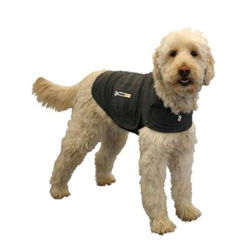 Thundershirt easily and effectively diminishes this anxiety that storms, like Hurricane Sandy, can cause in our pets.
Durham, NC (PRWEB) October 29, 2012
As Hurricane Sandy gains strength as it makes its way up the north coast, Thundershirt would like to remind pet parents their product is a simple and effective solution to combat weather-related pet anxiety.
"Both dogs and cats become anxious and fearful before and during storms," explains Phil Blizzard, founder of Thundershirt. "Thundershirt easily and effectively diminishes this anxiety that storms, like Hurricane Sandy, can cause in our pets. We hope it can bring aid, in even a small way, to the many households and families that will be affected by Hurricane Sandy."
Since 2009, the Thundershirt has been reducing anxiety among hundreds of thousands of dogs and cats around the world. The company has conducted extensive research on the prevalence and effects of pet anxiety, particularly related to storm season.
With its patent-pending design, Thundershirt's gentle, constant pressure has a dramatic calming effect for dogs and cats if they are anxious or fearful. Anxiety experts believe that pressure has a calming effect on the nervous system and may release calming hormones like endorphins or oxytocins.
"Pets are members of the family," Blizzard said. "Naturally, it's our instinct to make sure that everyone in the household is protected, calm and prepared should a hurricane hit, Thundershirt makes that possible for pets."
Thundershirt provides additional tips to keep in mind during this storm season.

A permanent pet ID such as microchip is advised to help you locate your pet in case they get lost.
Keep pets inside and monitor them when the go out for bathroom breaks, at times, storms can spook pets into running away.
Photograph each pet and store these pictures with other important documents in sealed/waterproof plastic bags.
Make sure that your pets are up-to-date on their vaccinations. If your pet needs to be boarded, kennels typically require proof of current vaccinations.
During a storm, you can play pet-friendly, classical music, or even run a load of dishes or laundry. The calming or familiar noise may be relaxing to your pets.
Also, have your pets' favorite toy, blanket and/or bed nearby during a severe storm.
Try not to scold a scare pet as it may confuse them and reinforce fearful behaviors.
For more information about the Thundershirt, or to request a product sample or interview with company founder, Phil Blizzard, please contact Kerry Sutherland at K. Sutherland PR, Kerry@ksutherlandpr.com or 949-328-4895.
About Thundershirt
Founded in 2009 in Durham, N.C., Thundershirt's mission is to bring relief to the millions of dogs, cats and their families struggling to cope with anxieties. The Thundershirt is designed to apply a constant, gentle pressure to a dog or cat's torso creating a dramatic calming effect for most users. Thundershirt continues to investigate dog and cat anxiety and fear issues with scientific-based studies and surveys from recognized veterinarians and pet owners. Thundershirt has already helped hundreds of thousands of dogs across the country and around the world.
The company also donates thousands of Thundershirts and funding to rescue groups and shelters to help these organizations manage their anxiety cases and find permanent homes. Thundershirts are sold online at http://www.thundershirt.com and by retail stores, veterinarians, trainers and kennels across the country.