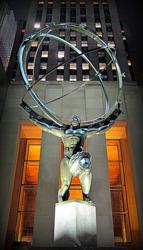 Washington, DC (PRWEB) October 29, 2012
Some critics describe the politics in the movie Atlas Shrugged Part II as unrealistic, more reminiscent of Soviet Russia than the contemporary U.S. How realistic is the world of pull and the regulations like Directive 10-289 in the context of today's mixed economy and democratic electioneering?
In this live, interactive webinar, Atlas Society Director of Programs William R Thomas will discuss the essential character of the regulatory state, the corrupting effect of economic regulation on democratic politics, and the ways in which Ayn Rand's Russian outlook does, and does not, translate to America.
The 30-minute presentation will be followed by an open-ended audio and text interactive question-and-answer discussion.
The webinar is offered free of charge, but donations to help support this work at The Atlas Society are needed and welcome.
About William R Thomas
Thomas oversees Atlas Society (TAS) programs oriented toward the Objectivist community and focused on the theory and practice of Objectivism. He oversees event programs such as the Atlas Summit and coordinates the student and scholarly programs of TAS's philosophy and training division. Thomas is the editor of The Literary Art of Ayn Rand (2005), author of Radical for Capitalism, and is the co-author of the survey The Logical Structure of Objectivism. He has published essays on topics in politics, ethics, and epistemology. He has spoken internationally on the theory of individual rights and Ayn Rand's philosophy of Objectivism. Thomas is currently a lecturer in the Department of Economics of the University at Albany.