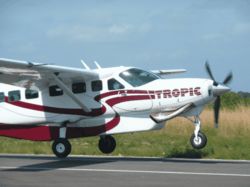 Mr Tonti said that Chaa Creek will continue to develop more all-inclusive Belize vacation packages as Tropic Air expands their services.
(PRWEB) October 30, 2012
A new air service linking Belize's San Ignacio Town to San Pedro on Ambergris Caye is a welcome addition to local transportation that will help travellers get the most out of their Belize vacations, The Lodge at Chaa Creek's business manager, Peter Tonti, said today.
Mr Tonti was speaking in response to the Belizean airline Tropic Air's announcement that an inaugural service linking Western Belize to the popular Caribbean island destination will begin on December 10, 2012. He said the new, fast connection will be a boon for those Chaa Creek guests who wish to add a Caribbean island experience to their rainforest and Maya culture adventures.
"Belize has always been unique in offering travellers the ability to combine a Caribbean island holiday with inland attractions such as ancient Maya temples and the natural beauty of our rainforests, the Maya Mountains and pristine jungle rivers. Now, with Tropic Air's new service, Chaa Creek's guests can have breakfast in a beautiful rainforest setting, explore an ancient Maya city, and still be on time for an afternoon lunch on a Caribbean beach at San Pedro, all in the same day and moving at the leisurely pace Belize is famous for," Mr Tonti said.
According to Tropic Air, the new service will run between the Maya Flats airstrip located midway between San Ignacio Town and Benque Viejo del Carmen on the Guatemalan border, and the domestic airports at San Pedro and Belize City.
John Grief III, Tropic Air's President, said that, "The new service is a direct response to requests from its valued customers, and carries through on the airline's commitment to the people of Belize. It also will allow for the growth of tourism in both regions, facilitating easy and quick transfers for visitors, and for increased trade between Cayo and the rest of the country.
"We hope that in the coming months, we are able to add flights and other destinations from San Ignacio," he added.
Mr Greif founded Tropic Air in 1972, beginning with one airplane and two employees. The airline now operates a fleet of 12 aircraft servicing 14 destinations in Belize, Honduras and Guatemala. Tropic Air employs over 250 staff and carried some 250,000 passengers in 2011.
"We've watched Tropic Air grow alongside Chaa Creek over the years. We both started out small, and evolved along with Belize's tourism industry together, so we've always enjoyed a close association as partners in Belizean travel. Now, especially with Chaa Creek's all-inclusive rainforest to reef packages becoming more popular, it's very timely that Tropic Air is making it so easy for our guests to enjoy the best of two worlds – our beautiful inland with its rich Maya culture and Belize's stunning Caribbean coast and islands," Mr Tonti said.
Mr Tonti said that Chaa Creek will continue to develop more all-inclusive Belize vacation packages as Tropic Air expands their services. "Belize is a tiny county, but it's so varied and packed with so many things to do that increased transportation options are always welcome. So we tip our hats to Tropic Air for making travel in Belize more accessible and comfortable, and wish them all the best in this exciting new venture,' Mr Tonti said.