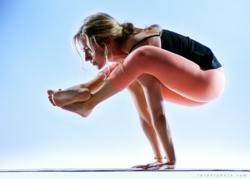 Maui, HI (PRWEB) October 30, 2012
Looking for the inspiration to get started with a yoga practice? Ready to take your yoga practice to the next level? If so, Four Seasons Resort Maui at Wailea offers guests a way to move toward their goals. Whether it's learning the basics or gaining skills to deepen a practice, internationally known yoga instructor, Kathryn Budig returns to the resort February 19-24, 2013 for her popular Vinyasa Yoga Retreat. It is one of the resort's upcoming Unforgettable Events, a series of one-of-a-kind experiences in which celebrated athletes and experts from many fields interact with guests in a diverse array of special programs.
Budig, who is currently on an international tour, teaching yoga in Prague, Geneva, Bruges, Santorini, Dubai and Doha, gears her classes to cultivate participants' physical, mental and spiritual health. She works with students on a number of poses designed to build and deepen a practice, teaching the correct ways to safely engage the body. Each day she will teach Vinyasa Flow, a combination of syncing movement and breath. This method allows poses to flow together on an inhale or exhale breath—much like a choreographed dance.
Known for her infectious love of yoga and joyful personality, Budig will meet and greet all attendees, and in a series of "talk sessions" in the yoga retreat suite, will conduct a general question and answer session as well as provide self-help and inspirational talks. The stunning Wailea Beach and other local natural settings will serve as the backdrop for this experience while the comforts and amenities of the award-winning Four Seasons Resort Maui provide a luxurious home-base stay. In the past, she has taken guests out on the water for an Outrigger Ceremony. This year, she is also planning to include time on the water for Paddle Board Yoga.
The prolific Budig has a new book coming out, Big Book of Yoga published by Rodale and a DVD produced by Gaiam. She is a contributor to the Huffington Post, Women's Health Magazine, Yoga Journal, and MindBodyGreen. She has been featured on the covers of Yoga Journal, Yoga International, Om Yoga and Common Ground, and is known for the groundbreaking yoga industry ads, featuring Budig wearing ToeSocks. An advocate for animals, she is also an avid food lover, freely sharing her passion for healthy, organic and eco-friendly recipes.
The retreat will include five nights in a luxurious garden view room; full breakfast daily in the resort's DUO Restaurant; four sunrise and three sunset yoga sessions with Budig including an offsite excursion to an inspirational setting; a Welcome Reception and a Closing Ceremony; and "talk Yoga" sessions.
Feature Video: Vinyasa Yoga Retreat
Pricing for this package begins at $4,500 for a single participant. Limited availability. To reserve this package, contact pat(dot)makozak(at)fourseasons(dot)com, call 1 (808) 874-2939 or visit the Spa at Four Seasons Resort Maui
About Unforgettable Events
Four Seasons Resort Maui's Unforgettable Events is a series of one-of-a-kind experiences scheduled throughout 2013. The calendar of events continues to grow and can be accessed at http://maui.fourseasons.com
About Four Seasons Resort Maui
Maui's first and only Forbes Five-Star resort is nestled on 15 acres of the breathtaking Wailea Coast. The 380-room oceanfront property is world-renowned for its comfortable opulence, impeccable service, luxurious amenities, and for living in harmony with its environment and community. The resort in Maui is also home to one of the nation's top-rated spas committed to wellness and three of Hawaii's most acclaimed restaurants—Ferraro's Bar e Ristorante, Spago Maui and DUO, a premium steak and seafood restaurant. This sophisticated home away from home caters to the needs and interests of all generations—offering world-class activities and one-of-a-kind Unforgettable Events, a museum quality art collection, three pools overlooking the azure-blue Pacific Ocean including an adults-only Serenity Pool with exclusive Missoni-designed cabanas, and more. Four Seasons Resort Maui, a Hawaiian vacation destination geared to action adventurers, those guests wishing to practice the fine art of doing nothing at all, and everyone in between. Four Season Resort Maui
Media contact: Charlotte Novom; Novom Marketing; 714-941-9799