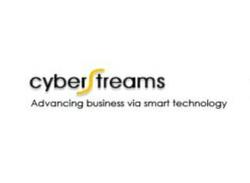 As more businesses recognize the opportunities to enhance productivity by fully empowering mobile workers, investing in a truly unified communications systems will continue to be a key component of their business strategy
(PRWEB) October 31, 2012
CyberStreams, an IT consulting firm based in Bellevue, announced today the release of the enhanced mobility suite features from its Teo Tech Unified Communications partnership. Now, all of the features enjoyed in using a Unified Communications platform can be used with the iPhone and Droid smartphones as well as the iPad and Droid tablets. Voice, HD video, unified presence, and instant messaging are all completely integrated for these mobile devices.
CyberStreams recently revealed its partnership with Teo Tech, a telecommunications company formerly known as Tone Commander Systems. The company has an impressive portfolio of 30+ years supporting Fortune 1,000 and government communications. With CyberStreams' understanding of the SMB market of the Pacific Northwest, the two companies are coming together to bring enhanced mobility, UC, and E911 functionalities to small and midsized organizations throughout the area.
"As more businesses recognize the opportunities to enhance productivity by fully empowering mobile workers, investing in a truly unified communications systems will continue to be a key component of their business strategy," said Thomas Beck, director of marketing and business development at Teo. "With the availability to support the broadest choice of mobile devices for our innovative UC platform, we are opening up yet another avenue for businesses to gain easy access to cost-efficient and advanced technology capabilities that will simplify and unify the way they work, leading them on a path to success."
This most recent announcement of the new enhanced mobility suite will offer SMB companies more capabilities on devices. Enabling businesses to adapt to the BYOD (bring your own device) transition without the device specific limitations of the past.
CyberStreams, the Pacific Northwest's Elite Certified Teo Partner, brings clients a one stop shop for solving their Unified Communications needs. Allowing employees to communicate faster, while simplifying phone system management and migration components. The solution fuses e-mail, phone, mobile, fax, instant messaging, conferencing, and file sharing all into one simple platform. By integrating these mobile products into the interface, CyberStreams and Teo Tech show how in sync they are with current trends in business.
The shift towards mobile devices has been evident throughout the business world. A desk, computer, and phone no longer characterize the office world where tablets, smartphones, and cloud technology now run rampant. CyberStreams helps businesses execute an effective transition into this new style of a modern workplace.
CyberStreams has been consulting Seattle firms on business phone systems since 1999. CyberStreams provides businesses a proactive approach to managing technology needs and tailors services to a multitude of situations. The company provides solutions for small to medium sized businesses in the greater Seattle-Bellevue-Tacoma-Everett region.