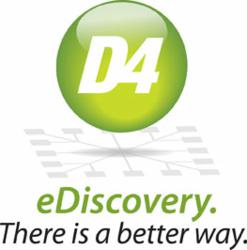 We are honored to be included on the list for the third year in a row
Rochester, NY (PRWEB) October 30, 2012
D4 a national leader in managed services, litigation support and eDiscovery solutions to law firms and corporate law departments, announced today that the company has been recognized by the Rochester Business Alliance and KPMG, LLP as one of Rochester's Top 100 for 2011. D4 joins an impressive group of the fastest growing privately held companies in the nine-county, Upstate New York region.
"We are honored to be included on the list for the third year in a row," said John Holland, CEO of D4. "The Rochester area is full of impressive, growing companies and we are thrilled to be recognized among the best and brightest this region has to offer."Holland continued, "The entire D4 family of employees helped make this possible".
D4 is a leading provider of eDiscovery Managed Services, computer forensics and litigation support services. Also recognized by Inc. Magazine's Inc.5000 list of fastest-growing private companies in America for 2011 and 2012, D4 continues to grow at an exponential rate. The company is firmly rooted in the Rochester area as it continues to grow, adding jobs for the local community and across the nation as well. Since first landing on the list in 2010, the company has added over 50 employees and five new locations. In 2012 alone, D4 added key senior executives to its staff including John Rubens, COO and Philip Mooney, Chief Sales Officer.
About D4, LLC
D4 is a leading national provider of electronic discovery, computer forensics and litigation support services to AMLAW200 firms and Fortune 1000 companies. D4 was one of the first providers to offer an eDiscovery Managed Services solution, eNtrust, which launched in 2011. D4 has been instrumental in helping customers realize up to a 70 percent cost reduction over previous e-discovery solutions. The company's state-of-the-art data center operations in Rochester are complemented by electronic discovery and litigation support offices throughout the U.S. Visit http://www.d4discovery.com for more information.