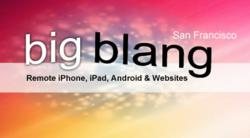 BigBlang San Francisco releases remote mobile app editing
San Francisco, CA (PRWEB) October 30, 2012
BigBlang releases the latest remote application editing for mobile apps, allowing users to quickly make updates to any application posted to the Mac Appstore and Android Google Play stores. Users will edit content using an easy to use text editing interface, and will not require HTML5 or programming knowledge. All of the information within published apps will remotely gather content based on these updates. This allows application owners instantaneous updates, simplified Appstore maintenance, and faster turnaround times without the need of a mobile developer.
With the latest release of the iPhone 5 and iPad Mini, mobile content continues to grow, and with a new way to update content quickly, Big Blang will help to provide fresh updated mobile applications faster.
Pricing packages start from a standard package of $350 [with a $45.00 per month] hosting, and eight "Serious Pro" package of $750 a month [with a $65.00 per month] hosting. These packages will include custom design and layout, mobile user interface design, Google maps integration, social network integration and special event notifications.
About BigBlang San Francisco
BigBlang was a natural offshoot from the parent company Handzon.com, as users required more control over mobile applications. With the need for continuous updates, users required a "no HTML5" approach to managing mobile applications. Sign up for mobile content packages at http://www.BigBlang.com
For more information call [415]-320-7483