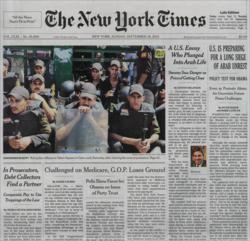 Debt problems plague thousands of people each year, and Mr. Feinstein explains that bankruptcy should not be seen as a shameful process that will destroy an individual's credit
(PRWEB) October 31, 2012
Queens bankruptcy attorney Bruce Feinstein, Esq. was recently quoted in a New York Times article about the realities of securing a mortgage after bankruptcy. Journalist Vickie Elmer interviewed Mr. Feinstein for "Life After Bankruptcy," which was published in the Times' Real Estate section and describes how those who file for bankruptcy protection can qualify for a mortgage in as little as one year after their debt is discharged.
The article describes common myths surrounding life after bankruptcy and obtaining a mortgage after a Chapter 7 or Chapter 13 filing. By establishing credit soon after bankruptcy and paying bills on time, consumers can show they are financially prepared to take on a mortgage. In fact, that time frame may be even smaller; in the article Mr. Feinstein says, "If a bankruptcy filing was the result of a one-time occurrence, like the death of a spouse, divorce or illness, the waiting period to apply for a mortgage may be reduced. Lenders will often want borrowers to write a hardship letter explaining their situation, backed by documentation like hospital bills or a court-approved divorce settlement. If the person has paid back 85 to 95 percent of his debts during the bankruptcy process, he will need to mention that in the letter as well."
Mr. Feinstein leveraged his 15+ years of experience as a Queens bankruptcy attorney working with personal and business bankruptcy cases to educate readers about ways to get on the path toward good credit and a mortgage. Debt problems plague thousands of people each year, and Mr. Feinstein explains that bankruptcy should not be seen as a shameful process that will destroy an individual's credit. In the article, he says "he has seen a few clients qualify for a mortgage only two years after filing for Chapter 7, though generally borrowers can obtain a loan quicker after a Chapter 13 reorganization, because of the partial repayment of debts."
Bruce Feinstein, Esq. and his team, located in Queens, New York, have helped hundreds of clients throughout Kings, Queens, and Nassau counties obtain debt relief – and his comprehensive understanding of the bankruptcy code shone through in this article. Visit the Law Offices of Bruce Feinstein, Esq. at bfeinsteinesq.com or call (718) 514-9770 to reach his New York office.
###