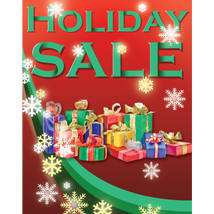 Another great way to get into the holiday season is by having special promotions this is a great way to get more customers- We are currently having a promotion in our Chicago Showroom this week.
Des Plaines, IL (PRWEB) October 31, 2012
Specialty Store Services a retail store supply distributor based in Chicago, IL, knows that November and December are the busiest time of year for retailers. Since retailers cannot fully estimate what is needed during this time, Specialty Store Services offers same day shipping at no additional charge if the order is placed before 1:00 in the afternoon. Specialty Store Services has a warehouse fully stocked with holiday bags, tissue paper, and gift certificates that are ready to be shipped to customers when it is needed- quickly.
Besides the traditional staple holiday products Specialty Store Services carries Holiday Banners and Posters in several different styles that help highlight sales, services or company information. Specialty Store Services has a talented custom design team that can help create a sign incorporating a store's logo, event or social media on a wide variety of promotional material.
Another attention grabber is the easy to install LED Rope Lights. These eye-catching lights generate very little heat and are safe to leave on continuously. The LED lights are available in Red, White, Blue or Green. " The LED lights are so easy to connect you can hook up to 40 of the 9 foot long lights end to end without any extra connectors and then simply plug into any outlet" Julie Mitchell, Merchandise Manager.
Don't forget those customers who cannot decide on what to buy. Gift Certificates are the perfect choice. Gift Certificates build brand loyalty; encourage customer spending and turns into the gift that keeps giving for the retailers. Stock Gift Certificates are available in three different styles and sold in packages with matching envelopes. In addition, customized Gift Cards are available with endless design capabilities.
And the retailer cannot forget about Holiday Plastic Bags, a great way to get that festive feeling all the way home. Beginning on October 29th thru November 2nd the Specialty Store Services Showroom is going to have a shopping event and the holiday bags with be discounted $5.00. This is a weeklong event – so stop on by 454 Jarvis, Des Plaines IL 60018.
As always, Specialty Store Services features a selection of reduced and discounted prices on a variety of items on the website. With closeouts on Electronic Safes, security products, and other store fixtures or supplies, retailers can find everything they need at the lowest price, guaranteed.
For more information about Specialty Store Services or to request the new catalog, visit the company's website: http://www.specialtystoreservices.com