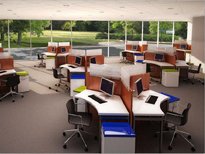 Finally the entertainment industry have a resource for location and office space.
(PRWEB) October 30, 2012
This additional focus on the entertainment industry is in response to the recent demand Your Office Agent have had from entertainment and production companies of all sizes who want to outsource the hassle of finding their perfect office space all around the world and love the idea of getting this service for free. Locations that Your Office Agent have to offer range from executive suite offices and meeting room space all around the globe to space in large buildings to Coworking locations.
The solutions that are now available to the entertainment industry will mean that they can now take on a no-cost partner to match the space function with what they are trying to achieve with any production or project. Some of the major industry associations that have already put Your Office Agent as their partner of choice, include NATPE (National Association Television Programming Executives) and the PGA (Producers Guild of America) and many more. This does seem to be the perfect marriage of need and provision.
Nina Steiner (former Line Producer) from Your Office Agent stated that they are delighted to be able to offer all companies, entertainment related or not, the ability to find their ideal space from their online database, whenever they need it, for no fee. The database that Your Office Agent has built has never been available to this industry before now but they have committed to continue to making the time investment needed to make sure that Your Office Agent can be the one-stop property shop for all entertainment related companies all around the world. The whole team at Your Office Agent feel that it's important that there is no barrier to every possible option being available to the entertainment industry who want to find office, meeting rooms and locations easily and without upfront cost.
If you're looking to find a location or property, just contact Nina and the team at contact(at)yourofficeagent(dot)com or call 800-600-0881. As always the person searching does not ever pay for this service and the site is full of great deals from business lounges starting from $2 a day including internet and unlimited coffee to full floors at all inclusive discounted rates in a professional office environment.
As technology is driving the workspace revolution, it's only right that this same technology should be the solution for finding it.
Bookmark the http://www.yourofficeagent.com site for all your workplace needs and spend less time searching for that perfect place and more time enjoying.