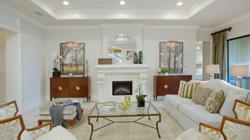 Winter Park, FL (PRWEB) October 30, 2012
Marc-Michaels Interior Design Inc. is proud to announce its continued involvement with GL Homes.
Marc-Michaels designers Kelly Dipeveen, Nicole Parker and Lauren Saunders are completing three additional furnished models and a clubhouse for GL Homes in Valencia and Riverstone communities.
The Valencia community, located in Tampa, Fla., appeals to buyers with its proximity to the Gulf beaches as well as several well-known golf courses. Both models are three-bedroom, two-bathroom layouts with one having an additional den space. The first will embrace a West Indies vibe, and the color palette of coral and tan will set the casual "barefoot elegance" tone. The second model in this community will appeal to the more traditional buyer with a slightly more formal feel and a color story of gold, greys and green.
In the spring of 2012, Marc-Michaels completed two models in the Riverstone community located in Naples, Fla., and are now working on a third model as well as a clubhouse. Riverstone is a gated community with homes ranging from 2,000 to 4,500 square feet and priced from the $300s to the $600s, the models are geared toward the more conservative buyer, designed with coastal elements and traditional detailing. For further information please visit: http://www.prweb.com/releases/2012/4/prweb9387742.htm
Consistently ranked as an industry leader, Marc-Michaels Interior Design Inc. has been providing highly imaginative interior design and merchandising services for more than 25 years. An emphasis on interior detailing combined with a "casually elegant" approach to design form a unique offering sought by clients on an international level. The firm specializes in translating its signature look to private residences, commercial projects and model-home merchandising. Co-CEOs S. Marc Thee and Michael J. Abbott lead a staff of 45 with office locations in Winter Park and Boca Raton, Fla. For more information visit http://www.marc-michaels.com.