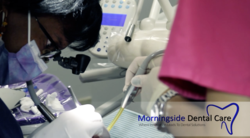 New York, NY (PRWEB) October 30, 2012
Morningside Dental Care's Dr. Donna Williams works with her patients to learn proper techniques of preventive dentistry. She knows how much of a difference proper techniques make to the brushing and flossing regimen. Many people understand how important it is to brush their teeth at least two times each day, and many also understand the need for flossing. However, it is also true that many people do not use proper techniques. As a dentist, Dr. Williams knows that improper techniques do very little to prevent gum disease or decay.
Using a soft bristled brush is the first item of importance. Next, it is important to make sure that the toothbrush is placed at a 45 degree angle against the gum line. The brush is then gently moved back and forth to brush away the tartar or plaque that gathers on the teeth surfaces. Flossing is necessary to remove food from between the teeth before it can help bacteria to grow. Mouthwash is the next element that one ought to use so that the bacteria can be eliminated.
With gum disease reaching epidemic proportions in this country, it is important for people to use at-home preventive care to help get control. Visiting the dentist at six month intervals is also very important in order to prevent dental problems from being overlooked.
As a dentist, Dr. Williams helps her patients understand that proper dental care habits begin at a very young age. As soon as teeth start to grow in, a dentist should be visited. By teaching proper skills to children, they will be better able to prevent gum disease and other dental problems that could eventually lead to expensive treatments. For a discussion of proper at-home techniques, visit http://www.nylasergumsurgery.com.
Morningside Dental Care is a general practice offering patients personalized dental care for New York, New York. Dr. Donna Williams started her dental career at Howard University as a Dental Hygienist. She graduated from Baltimore College Dental Surgery/University of Maryland, the first dental school in the world. Throughout her dental school education she received awards and recognition, including maintaining a 4.0 GPA during her initial year, and an award for outstanding research in the Dental Clinical Science Research competition. She completed a fellowship in Holistic dentistry and is one of very few general dentists who have achieved this accomplishment. Having lived in Africa for a year, she returns on a regular basis to volunteer, providing dental service and education to villagers. Dr. Williams is part of one percent of dental professionals providing the most recent FDA cleared laser procedure for gum disease and periodontal treatment. To learn more about Morningside Dental Care and their dental services visit their website at http://www.nylasergumsurgery.com and call (347) 694-4342.