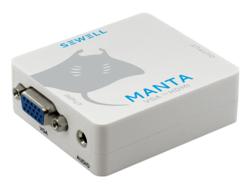 The Sewell Manta is the simplest way to watch high definition content from your computer on your television.
Orem, UT (PRWEB) October 30, 2012
A leading connectivity solutions provider, Sewell Direct, has announced the launch of the Sewell Manta VGA to HDMI w/1080p Scaler. The product was officially released in North America on Oct. 17 and is currently shipping. The product is expected to be released in Europe in November.
The Manta provides a bridge from a computer to an HDTV. Coupled with a 3.5mm cable (not included) a user can turn any VGA port on a laptop or desktop (Windows, Mac or Linux) into an HDMI port carrying 1080p high-definition video. The installation only takes a few seconds as the Manta is completely "plug and play" (requiring no driver installation).
A major limitation of current PC to TV solutions is that the user has to spend a lot of time filtering through multiple resolutions on their computer to figure out which one will look best on their TV. The Manta automatically detects the resolutions supported by the TV and chooses the best one using a state-of-the-art 1080p video scaler.
"One of the main things that sets this converter apart from others on the market is its small form factor," said Brett Beatty, Sewell's Senior Product Manager overseeing development of the Manta. The converter's small form factor allows the unit to be placed easily and discreetly in any cable run and makes it portable for travellers wanting to use it while on the road.
Including a video scaler and audio support in such a small form factor was an engineering feat requiring constant collaboration between marketing and engineering teams. Early in the development cycle the team faced problems related to heat dissipation (when products overheat they become less reliable and can be dangerous). After solving the heat issues and building working prototypes the Sewell team had to figure out how to mass produce the Manta since the on-board components are much smaller than components used on most PCBs. Ultimately Sewell was able to overcome this concern using precision manufacturing equipment and processes.
Beatty is proud of his team's success in overcoming these challenges. "The Sewell Manta VGA to HDMI with 1080p Scaler is the simplest way to watch high definition content from your computer on your television," said Beatty.
To install the Manta, the user simply connects the converter to the VGA port on a computer using a VGA cable, and then connects the converter to an HDTV using an HDMI cable. In order to integrate the audio from the user's computer into the HDMI line, the user would need to use a 3.5mm stereo audio cable to send audio to the unit, creating a complete audio/video HDMI signal which goes straight to the HDTV.