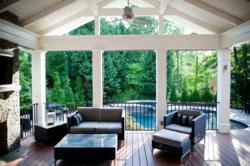 "From reading the descriptions that accompany the entries, it's clear that these NADRA members put a tremendous amount of planning and thought into each project."
Grand Rapids, MICH. (PRWEB) October 31, 2012
National Nail Corp.'s CAMO Hidden Deck Fasteners were used in the construction of two decks that took first place in NADRA's Third Annual National Deck Competition in the 2012 Best Dock and the 2012 Best Covered Deck categories.
NADRA hosted their Third Annual National Deck Competition Awards Ceremony on October 10. Attendees included NADRA members and guests, NADRA's National Board of Directors, local Chapter Directors, along with many other industry professionals. The competition was open to NADRA builder members from across the United States and Canada. Finalists were selected by an elite panel and judged on creativity, use of space and functionality, use of materials, and overall visual appeal.
"From reading the descriptions that accompany the entries, it's clear that these NADRA members put a tremendous amount of planning and thought into each project," said Rick Schumacher, one of the panel judges and Publisher of LBM Journal. "I've said it before, and I'll say it again--there are a lot of Associations that serve the residential construction industry, but few if any can match NADRA's energy, passion and commitment. It's a great thing to be a part of."
The 2012 Best Dock was submitted by Jon Witt of Witt's Woods and Greens in Ontario, Canada. The dock was built using CAMO Hidden Fasteners and a variety of materials including Douglas Fir, Hemlock, Cedar and AZEK® PVC decking. The dock curves out from the shoreline in a wave-like pattern, and the deckboards are laid in a beautiful 45-degree angle pattern.
The 2012 Best Covered Deck was submitted by Rick Goldstein of the Mosaic Group, Inc. in Georgia. The project involved removing an existing deck and building a larger deck that includes a screened in porch, outdoor kitchen and living area. This deck was built using CAMO Hidden Fasteners and Gossen® Passport PVC decking.
For more information about NADRA and the National Deck Competition, visit http://www.nadra.org.
For more information about CAMO, please visit http://www.camofasteners.com or call 1-800-968-6245 ext. 2118. Be sure to "Like" CAMO Fasteners on Facebook and keep up with CAMO news, stories, photos and events by signing up for the CAMO Connection.
National Nail Corp., headquartered in Grand Rapids, Mich., is an employee-owned manufacturer and distributor of high quality, innovative building products and service solutions for the residential and commercial construction industries. Other National Nail brands include Pro-Fit® Fasteners, STINGER® Cap Systems and Impressions Storm Doors and Windows.