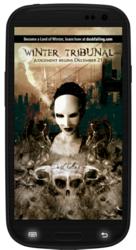 . . . watch out world, growing my clan and sharpening my fangs.
Cool, cool game. Always looking over my shoulder.
-Pilot Review
Harrisonburg, VA (PRWEB) October 31, 2012
V is Raincrow Game's debut into the mobile gaming space and Dusk Falling is designed as "Act 1" in a gripping vampire tale coupled with innovative Location Based Game (LBG) mechanics.
Gamers have called V, "…Stephen King's 'Gunslinger' meets Cold Mountain meets The Vampire Chronicles."
The consensus among the Raincrow team and players of the beta are that there's something for everybody in this game. It truly is a departure from the normal social game formula incorporating high end graphics, streamlined player vs. player "HUNT" experience backed by a powerful narrative that is destined for a movie screen.
Raincrow's Chief Creative Officer, Travis Fox commented, "We're excited to 'be rolling out V for Halloween, this is our season. Imagine a game of 'tag' that makes the hair stand up on the back of your neck...we're standing on the brink of the Location Based Gaming (LBG) revolution and we [Raincrow Games] plan to be a big part of it."
V is aimed at the social-casual mobile gaming crowd; it's a game of strategy, like playing chess with the local countryside or city as the game-board. The chief mechanics are hunting down weaker players, avoiding stronger players and building a clan for protection and rewards. Progress is judged by "true blood" vampires in seasonal Tribunals, with titles and awards given at the end of each season. It's truly a suspenseful experience, with an ever-changing field—no two days in V are the same.
For those that are compelled to dominate, the Tribunal battleground system and Clan competitions offer a path to rise in power and actually affect the world around you. Additionally, a dynamic Events & Missions calendar adds variety and depth of content so the game promises to stay fresh and interesting and never static.
About Raincrow Games
Raincrow Games is a collection of writers, gamers, and geeks, in search of "the next big thing" regarding technology fused with creativity. "V Dusk Falling" is Raincrow's first title in the mobile gaming world but is backed by years of successful ventures between the founders in other forms of media and design work.
"Play the Story" http://www.raincrowgames.com
For live updates, please follow Raincrow via Twitter @raincrowgames or become a V Dusk Falling fan at http://www.Facebook.com/Vduskfalling