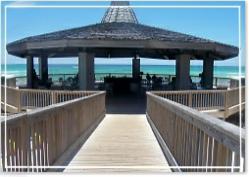 Destin, FL (PRWEB) October 30, 2012
Jetty East Condominium Resort (fondly known as "The Jetty") has planned a week of "giving thanks". Starting Tuesday, November 20th, their annual complimentary thanksgiving Feast for all of our guests, owners, and staff. Their housekeeping department works on preparing this meal for days and the result is an incredible homemade food orgy you don't want to miss.
Thanksgiving Day is for your family to enjoy your traditions at Jetty East. Prepare your Thanksgiving Feast or enjoy the special meal in one of Destin's great restaurants that are waiting to serve you. Have fun on the beach, swim in the heated pool, soak in the hot tub, fish from the east jetty, kickback and relax on the pavilion, and get rested up for "Black Friday".
Get up early on "Black Friday" and hit the stores to find great deals on the items on your Christmas and Holiday shopping list. Shop till you drop back into "The Jetty" where a complimentary bag lunch will be waiting to revive you.
All this and you can take advantage of our 10% discount on our already low winter rates.
Please browse our menu at http://www.beachgobblerspecials.net Jetty East Condominium Resort is an exclusive, Gulf Coast property just off Highway 98 in northwest Florida. The gated resort is an ideal beach vacation spot featuring plenty of sun, sand, and gorgeous emerald green waters. Nearby guests enjoy fine dining at a number of restaurants, plenty of shopping opportunities, and a long list of water sports including snorkeling, deep-sea fishing and more.
The staff at Jetty East encourage you to join them for this year's Thanksgiving celebration on the 20th, or take advantage of an exquisite meal at one of resort's restaurants on the holiday itself. Those who want to take advantage of the Black Friday sales can do so knowing they have the comfortable surroundings of The Jetty where they can return to a tasty, complimentary bag lunch.
About the company:
Jetty East Condominium Resort, an exclusive, gated Gulf front resort community, offers the perfect vacation rental and is conveniently located just a mile and a half off Highway 98 where fantastic restaurants, a plethora of shopping, and attractions for everyone in the family can be found.
The emerald green waters of the Gulf and the 775' of its running beaches affords no end to the adventures available – sunning, swimming, parasailing, kayaking, paddleboarding, sand castle building, crabbing or just kicking back. Enjoy the short walk to the Jetty bordering the East Pass where one can fish, snorkel, watch the coming and going of the boats, or just sit and contemplate all the beauty that abounds at Jetty East Condominium Resort. For more information visit their website at http://www.jettyeast.net.