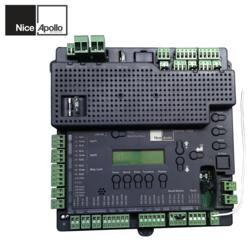 This will allow the option of Apollo gate openers purchased through GateCrafters.com to have the advanced electronics.
Odessa, FL (PRWEB) October 30, 2012
The recently released 1050 model is the most technologically advanced and customizable of the driveway gate opener control boards offered by Apollo. The key advances found in the 1050 gate opener control board are those allowing more control of the operator as well as the control board being able to better self diagnose and prevent malfunction. This is of critical significance to the industry because the 1050 is compatible with all Apollo gate operators. This will allow the option of Apollo gate openers purchased through GateCrafters.com to have the advanced electronics.
Apollo lists as one of the most beneficial of the new features is the built in voltmeter which checks input voltage, battery voltage, solar panel voltage, and the motor's current. When a gate opener starts malfunctioning the first means of diagnosis is to check these variables. Having a built in voltmeter allows an owner to pinpoint the source of the electrical problem without any addition meters or supplies, allowing on the spot diagnosis.
Apollo has long been known for battery operated solar systems. Additional innovations such as a built-in regulator and temperature sensors are designed to ensure the battery is charged and available for operation. In addition surge suppression is built into every peripheral input, which protects the control board from power surges from electrical storms. Electrical storms are responsible for the replacement of thousands of gate opener control boards every year.
Matthew Raab, Vice President of GateCrafters.com, explained the company's enthusiasm over the new product, "From a customer standpoint this board is exciting because the user has more specified control over the operation of their driveway gate. For instance, the owner can now control the speed of motor opening and closing independently on each motor. From our standpoint this board will help tremendously with troubleshooting.We sell to the DIY community and many times we have to teach not only the gate opener but usage of devices like multi-meters. Because of the built in diagnostic features we can obtain the information needed for most troubleshooting calls with just a few pushes of a button."
For additional information on the Apollo 1050 model smart control board, contact Bill Anthony at GateCrafters.com. For retail purchase please visit http://www.gatecrafters.com
About GateCrafters.com
GateCrafters.com is a part of Web Direct Brands, Inc., a Florida corporation that owns and manages multiple specialty websites focusing mainly on the DIY community and products.
Contact:
Jacob Rausch
Gate Crafters, Information Dept.
813-920-7259
http://www.gatecrafters.com
###