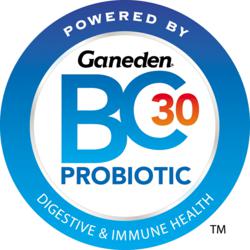 Currently antibiotics are the primary weapon in the arsenal to fight C. diff. These findings show that the probiotic GanedenBC30 may provide an alternative.
CLEVELAND, OH (PRWEB) October 30, 2012
Ganeden Biotech, a recognized world leader in the manufacturing and marketing of probiotics, announces new research demonstrating that its probiotic, GanedenBC30® may prevent the recurrence of C. difficile-induced infection (CDI), a common cause of health-care associated diarrhea and colitis.
Clostridium difficile, referred to as C. diff, is a bacterium that causes inflammation of the colon, known as colitis. Individuals requiring prolonged antibiotic use, and the elderly, are at greater risk of acquiring C. diff which affects 500,000 people each year and results in 15,000 deaths annually. While most health-care associated illnesses are declining, C. diff rates are at a historical high with annual treatment costs surpassing $3 billion.
The study, Bacillus coagulans GBI-30, 6086 limits the recurrence of Clostridium difficile-Induced colitis following vancomycin withdrawal in mice, published in Gut Pathogens, demonstrates that Bacillus coagulans GBI-30, 6086 (GanedenBC30) prevents the recurrence of CDI in mice. Findings build on previously published research showing that GanedenBC30 alleviated symptoms of C. diff-induced colitis. (Bacillus Coagulans GBI-30 6086 improves indices of Clostridium difficile-Induced colitis in mice, Gut Pathogens, 2011.)
In addition to inhibiting C. diff reoccurrence, the current study found that the mice given GanedenBC30 that did become re-infected with C. diff, experienced less severe symptoms and recovered more quickly than the non-GanedenBC30 group. On day 17, 88.9 percent of mice treated with GanedenBC30 had normal stools, while none of the mice in the placebo group had normal stools.
"C. diff infections are very common in hospitals and nursing homes where individuals have compromised immune systems," said Dr. David Keller, Vice President of Scientific Operations at Ganeden Biotech and one of the study's authors. "C. diff treatment is a double-edge sword: you get it while on antibiotics but it's then treated with antibiotics. And once you have had it, you are much more susceptible to getting it again," he said.
CDI usually occurs after antibiotics have been taken which often kill present healthy bacteria. This imbalance can allow overgrowth of the toxic Clostridium difficle bacteria. The spectrum of C. diff-associated disease ranges from mild antibiotic-associated diarrhea to severe and life threatening pseudomembranous colitis.
"Currently antibiotics are the primary weapon in the arsenal to fight C. diff. These findings show that the probiotic GanedenBC30 may provide an alternative," Keller said.
Ganeden Biotech helped design, fund, and analyze the data of this study.
###
About Ganeden Biotech
Founded in 1997, Cleveland, Ohio based Ganeden Biotech is at the forefront of probiotic research and product development. Ganeden has an extensive library of published studies and more than 100 patents for probiotic technologies for the food, beverage, animal health, and now topical ingredients markets. The company is best known for GanedenBC30®, its patented, probiotic ingredient, which is found in more than 50 leading food and beverage products. Ganeden helps manufacturers develop and market probiotic products and offers an extensive intellectual property portfolio with patent and trademark protection for an array of technologies all over the world.
For more information about Ganeden Biotech and licensing opportunities visit ganedenlabs.com.