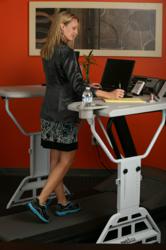 TrekDesk was designed specifically for individuals whose employment or daily schedules confine them to a desk all day.
Scottsdale, AZ (PRWEB) October 29, 2012
Feeling a little dissatisfied with life? The answer may be a few steps away according to new research published this week in the journal Health Psychology. Researchers at Penn State University found that adding additional exercise to an employee's general routine increased their satisfaction with life. TrekDesk Treadmill Desk makes it easy to add additional exercise into the day, allowing walking while working at normally sedentary desk related tasks.
Researchers evaluated two groups of college students at Penn State. Group one consisted of 190 students logging information daily for a period of eight days into a diary. The second group (63 individuals) entered their information into a website for a period of two weeks. Both groups filled out questionnaires designed to measure their life satisfaction levels, physical activity and self-esteem. The researchers found a significant increase in levels of life satisfaction when participants exercised more than their average daily routines. "We found that people's satisfaction with life was directly impacted by their daily physical activity," stated Jaclyn Maher, a Penn State graduate student in kinesiology. "The findings reinforce the idea that physical activity is a health behavior with important consequences for daily well-being and should be considered when developing national policies to enhance satisfaction with life."
One of the problems facing students and employees alike is finding additional time in the day to increase levels of physical fitness. "TrekDesk was designed specifically for individuals whose employment or daily schedules confine them to a desk all day," stated Steve Bordley, CEO of TrekDesk Treadmill Desk. "Study after study has confirmed that staying in motion will increase health and productivity, it is not a surprise that more physical activity would also increase levels of life satisfaction as well."
Designed to fit any existing treadmill, TrekDesk treadmill desk is an affordable, full sized, height adjustable workstation that allows individuals the opportunity to gain the necessary amount of exercise daily to maintain health, reduce stress, prevent disease, strengthen muscles, boost mood and productivity, without requiring additional time during the day or extra motivation. Wondering how to workout at work? TrekDesk offers the solution.
TrekDesk is currently available for sale online at http://www.trekdesk.com.
Join the TrekDesk "Movement Revolution" to learn more, win a free TrekDesk or ask any health related questions anytime at http://www.facebook.com/trekdesk, or follow TrekDesk on twitter http://www.twitter.com/trekdesk.