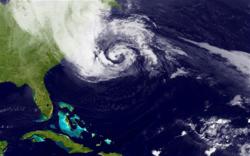 Fort Lauderdale, FL (PRWEB) October 30, 2012
It's a sad reality that fraudsters will use this super storm as an opportunity to strike. After experiencing the devastating effects of natural disasters, victims are often too busy dealing with getting their lives back in order to realize that they are being targeting by scam artists. Unlicensed "contractors" offering quick repairs, insurance agents providing backdated policies and scammers posing as government agency workers are three examples of scams that target the innocent victims of natural disasters. Webb, also known as the Fraud Dog, summarizes these three common scams associated in her latest Fraud Tips Video.
Webb has dedicated her career to stopping fraud and has seen these scams during many natural disasters. She wants to remind all people affected by this Frankenstorm that fraudsters go to great lengths towards hiding their true identity. Always get a business card of anyone that approaches you or that you hire after a natural disaster. Ask for photo identification to verify that the person you're dealing with is actually the same person as listed on the business card. Take a photo of the person you're dealing with; even using a cell phone if needed. Scam artists are often reluctant to have their photo taken. Additionally, if a person is a victim of fraud the photograph often proves to be crucial evidence.
Learn these tips and more by watching Webb's latest video: http://www.youtube.com/watch?v=zOTemLkDHVQ&feature=youtu.be
Linda Webb is currently the President of Contego Services Group, LLC, a provider of innovative insurance services including the SWARM™ service model, a swift-working approach to catastrophic insurance claims. Contego Services Group, LLC provides game-changing insurance services and cost containment solutions. Services include Investigative Services, SIU & Fraud Detection, Subrogation Recovery, Due Diligence Services, Loss Control, and Transportation & Translation. For additional information on Contego Services Group please visit http://www.ContegoServicesGroup.com or contact Jessica Custer at 954-556-1616.
To learn more about Contego Services Group, LLC, visit ContegoServicesGroup.com.
Linda Webb aka The Fraud Dog is a national speaker and fraud expert in many areas of insurance fraud with experience investigating the most complex organized crime rings, insurance fraud, mortgage and financial fraud, and Medicare and healthcare fraud. To learn more about Linda Webb, the Fraud Dog, visit http://thefrauddog.com.
Media Contact:
Jessica Custer
954-556-1616
http://www.ContegoServicesGroup.com
JCuster(at)ContegoGroup(dot)com
###