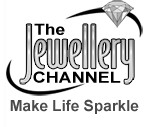 From superior designs for women's necklaces, bracelets, earrings and rings, to watches that men will prize forever, we are happy to say that our new collections offer something irresistible to suit every taste
(PRWEB UK) 30 October 2012
With Britons gearing up to spend their hard earned money on Christmas gifts for their loved ones, there are now more captivating yet affordable choices than ever at The Jewellery Channel (TJC) website.
Originally launched in April 2006, TJC's online platform boasts the world's largest selection of gemstones and a wealth of exclusive collections by high-end brands. This, in addition to offering top of the range jewellery that is significantly less expensive than High Street retailers, has ensured their consistent rise in popularity.
Shoppers will now be able to find exactly what they've always dreamed of at The Jewellery Channel because in addition to expanding their already massive range of offerings for Christmas, the website allows people to conveniently narrow their search for merchandise using tick-box criteria such as gem weight (in carats), metal (gold, platinum or sterling silver), price range and brand.
For the upcoming festive season, TJC is now presenting their Christmas merchandise launch – their New Arrivals section boasts fresh and stunning jewellery creations, including items from their own exclusive brands such as Iliana, J. Francis, Karis and Rhapsody, as well as other designer brands from the likes of Lucy Q, Rachel Galley and Swarovski Elements which are increasingly being seen adorning celebrities.
The Jewellery Channel website further provides a dedicated Gifts section, where shoppers can target their choices by selecting collections according to gender and cost bracket. They also have a specific Luxury collection for those who want to head straight for opulence at a fair price.
In addition, people who want to buy that special item of jewellery for a partner, friend or family member can get amazing deals on new creations featuring precious gems and top quality metals at TJC's Live Auctions section. Customers need only register for free and thereafter, when there's an auction item of interest, a user simply needs to login and enter their bidding amount - bidding starts from as little as £1 for the chance to win such luxury steals as an 18 carat Colombian emerald set in a diamond pendant, which would normally cost at least £700.
CEO of The Jewellery Channel, Sri Burugapalli, commented on their latest Christmas merchandise launch: "The festive season is the most special time to show love for friends and family as often this is one of the few times in the year when everyone gathers together. To celebrate this important time of year and to help shoppers find that extraordinary gift which will make someone's face light up, we wanted to give people a wide range of new, unforgettably beautiful jewellery and at prices which won't break the bank balance. From superior designs for women's necklaces, bracelets, earrings and rings, to watches that men will prize forever, we are happy to say that our new collections offer something irresistible to suit every taste."