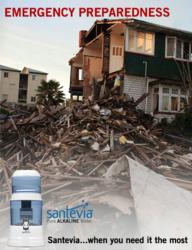 Delta, BC, Canada (PRWEB) October 31, 2012
Access to clean drinking water is a basic human need and crucial to surviving the first 72 hours after a major disaster.
In anticipation of this need for clean drinking water in the Eastern United States hit hard by hurricane Sandy, Santevia is donating up to 30 of its Countertop Gravity Systems for any Hurricane Sandy relief shelters.
Persons who know of any shelters that could use a water filtration system are asked to contact Santevia directly at help@santevia.com or call toll free at 1-866-943-9220.
"We live on the West Coast and recently experienced an earthquake off our coast with a magnitude of 7.7" said Santevia President Mike McLean. "while no damage occurred, the quake reminded us of how unprepared we are. The East Coast is now under attack and we want to do our small part to help out"
Santevia will ship these donated systems to Hurricane Sandy Storm Relief Shelters at no cost.
Santevia Water Systems
Santevia Water Systems Inc., located in Delta, BC Canada, manufactures and distributes water filtration and water mineralization products under the brand Santevia. The company's products are sold in Fitness Centers, Spas and Health Specialty Stores across Canada, USA, UK as well as online through its own shopping cart and online Partner Referral Program. All products are built to ensure they adhere to the company's core values to offer Alkaline water products that are healthy, eco-friendly and cost effective.