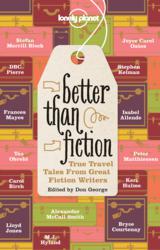 (PRWEB) October 30, 2012
Better Than Fiction features 32 of the world's best fiction writers, describing their most meaningful real-life journeys. Edited by Don George, this anthology of personal tales includes original stories by Joyce Carol Oates, DBC Pierre, Tea Obreht, Keri Hulme, Alexander McCall Smith, Isabel Allende, Kurt Andersen, Chris Pavone, and Joe Yogerst.
About the Book:
Better Than Fiction: True Travel Tales from Great Fiction Writers
Published by Lonely Planet
Edited by Don George
ISBN: 978 1 74220 594 6
320pp; $15.99
Published November 2012
About the Editor:
Don George has edited five previous Lonely Planet literary anthologies, including Lights, Camera...Travel!, A Moveable Feast, The Kindness of Strangers and Tales from Nowhere. He also wrote the Lonely Planet Guide to Travel Writing. Don has been global travel editor for Lonely Planet, travel editor at both the San Francisco Chronicle and San Francisco Examiner, and is also founder and editor of Salon's "Wanderlust." He is currently contributing editor and book review columnist for National Geographic Traveler, special features editor and blogger for Gadling, and editor of the online literary travel magazine Recce. He has received dozens of awards for his travel writing, including the Pacific Asia Travel Association's Gold Award for Best Travel Article and the Society of American Travel Writers Lowell Thomas Award. Don appears frequently as a travel expert on television and radio, and hosts a national series of on-stage conversations with prominent writers. He is also co-founder and chairman of the annual Book Passage Travel Writers and Photographers Conference.
Special Events featuring authors reading from their stories! Events are open to the public.
San Francisco Bay Area:
Monday, December 3rd, 2012 at 7pm
Book Passage, 51 Tamal Vista Boulevard, Corte Madera, CA 94925
Featuring: Isabel Allende, Joe Yogerst and Don George
New York City:
Wednesday, January 16th, 2013 at 7pm
Barnes & Noble - Union Square, 33 East 17th Street, New York, NY 10003
Featuring: Kurt Andersen, Chris Pavone and Don George