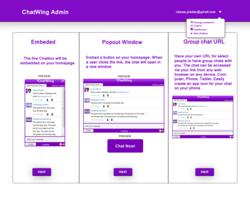 Dallas, TX (PRWEB) October 30, 2012
Many website owners are now including the premise of podcasting for their websites because of its significant online traffic boost. It has been proven that music creates a soothing environment for any community, and it can also spark numerous discussions every now and then. By utilizing this fact, the Chatwing Dev Team was able to create a free chat widget that can help podcast website owners gather more visitors. This latest chat app includes social media options, word filters, and other admin controls.
Chatwing's free chat box entails easy access for everyone. Website visitors can log in with their Facebook or Twitter accounts in just seconds, or they can use the Guest option to remain anonymous. The Guest option allows users to select from Chatwing's avatar collection. These blocky avatars have pop culture references that can entice visitors. Chatwing's default color theme is purple, yet admins can pick any color they want to fit their websites properly.
Podcast website owners who have used the Chatwing chatbox saw great improvements in the online presence of their websites. This has been noted after days of continuous usage. Many owners have also tried the other styles of the shoutbox and were satisfied of the results. The Chatwing Team will create more shoutbox styles in the future.
Chatwing's developers are looking forward in redefining the premise of website chat. This is the company's major goal and it will take a long time to achieve it. Through the Chatwing shoutbox, simple online purposes can be achieved, and more users can benefit from a simple but rewarding communication experience.
About Chatwing.com
Chatwing.com specializes in the new field of website chat. Over years, the Chatwing team has introduced live chat widget for hundreds and thousands of blogs. The Chatwing application bridges people from many parts of the world, creating global synergy through the Internet. The shout box can be installed in just seconds, and it can be used for varying purposes such as leisure and Internet marketing. It also allows a user to customize the size, color, and name of the widget. Chatwing is 100% free for everyone.