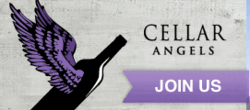 The Bolen Family is creating and sharing with our members is an exceptional Merlot painstakingly crafted from the finest fruit.
CHICAGO, IL (PRWEB) October 31, 2012
For the unfamiliar or wine novice, the mention of Merlot brings to mind a subpar wine destined for cooking use, thanks in large part to the 2004 movie Sideways. To the wine consumer, oenophile, wine educator or wine investor, Merlot brings to mind some of the world's greatest chateaux-- Petrus, Le Pin or Cehval Blanc. They hail from an area argued as the greatest "bank" of wines in the world and all showcase the "black gem" of grapes, Merlot. These wines also command some of the highest prices on the world auction stage. Starting Tuesday, October 30 and continuing for only five days, Cellar Angels will feature a winery whose single goal is to make the greatest Merlot in the world. And some would claim they're off to a very fine start.
Cellar Angels is the nation's leading caused-based wine company providing weekly access to highly acclaimed wines in order to raise money for a growing list of charities. The Cellar Angels member, (membership is free by going to http://www.cellarangels.com) receives a weekly email alerting them to a time sensitive discount on the wine. On Tuesday, Cellar Angels will feature Napa Valley winery, Bolen Family Estates and their 2008 Merlot.
Cellar Angels creates a custom video for each weekly offer and a quick view of the Bolen video provides two clues for the escalating demand for Bolen Merlot—Beckstoffer fruit and the hand crafted passion of Mike and Eric Bolen.
Cellar Angels founder/president Martin Cody is excited about the offer, saying "It's time to put world class Merlot from the U.S. back on the map. What the Bolen Family is creating and sharing with our members is an exceptional Merlot painstakingly crafted from the finest fruit. The public is in for quite a surprise and the Bolen incentives for case purchases are unprecedented. We're certainly excited for our charity partners too."
Unique to Cellar Angels is that the member personally selects which charity they wish Cellar Angels donates to. There are over fifteen charity partners ranging from autism and animal shelters through children's charities and charities helping returning military service personnel.
Cody continued, "We've tried to build a charity base where nearly every cause is represented. We're always adding more and encourage any interested charity to reach out."
Cellar Angels has hallmark and iconic Napa wineries including Grgich Hills, Silverado and St. Supery.
Bolen Family Estates started in 2006 and has quickly become synonymous with world class Merlot. This is their second offering with Cellar Angels and Eric Bolen likes the format, "Cellar Angels provides us the unique opportunity to reach people through good causes. Our business is all about our passion, just as Cellar Angels is passionate about their causes. It is a great relationship."
Wine lovers interested in receiving this offer must sign up here, http://www.cellarangels.com. All orders are processed and shipped by the winery.
About Bolen Family Estates
Bolen Family Estates is a family business that produces world class Merlot. Mike and Eric Bolen are a father and son team that share a deep passion for hand crafted small lot wines. Teaming the passion for our craft with amazing fruit from Beckstoffer Vineyards yields one of the finest Merlots in the world. Our cave is located at the base of the Mayacamas Mountains on the Western slopes of the Oak Knoll District of Napa Valley. Oak Knoll consistently produces the finest Merlot grapes in the world.
About Cellar Angels
Cellar Angels was created by a compassionate group of wine-lovers intent on changing the world through wine. Their mission is simple: connect small, artisanal wine producers to larger audiences, expose wine-lovers to exclusive purchase opportunities from partnering boutique wineries and raise money for a select group of charities. They love wine, love introducing others to great wine and love making a difference. Cellar Angels provides an opportunity to accomplish all three.