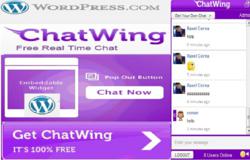 San Francisco, CA (PRWEB) October 30, 2012
The Chatwing Team has just offered a new and free chat widget to the Wordpress community. This chat application has new features, such as background image upload option, MP3 upload, word filter, conversation control, and many more. Chatwing's developers have focused on empowering ease of access to ensure that users can engage in lively conversations every now and then.
Chatwing's free chat widget lets users log in with their social media accounts. This is one of the reasons why many Wordpress bloggers have started using the Chatwing chat app. Now, these bloggers can invite more friends and market their blogs easily. The Chatwing shoutbox has also been used by trend seekers, especially those who are building communities in Twitter.
Uploading a background image in the Chatwing chatbox is easy. First, the user just needs to input the link of his favorite image. Aside from that, he can select from Chatwing's collection of images. Once the user clicks the 'save' button, the background image will appear in just seconds. The background image option offers wide accessibility to thousands of users and can entice many visitors. Users can also upload one MP3 song link to provide musical entertainment.
Chatwing's free shoutbox can make a website active by turning it into a chatting lounge where people can gather and exchange information. Aside from that, the Chatwing chat app can be used by many people to find friends and future acquaintances. Online professionals can also use the Chatwing app to aid their marketing campaigns.
About Chatwing.com
Chatwing.com specializes in the new field of website chat. Over years, the Chatwing team has introduced live chat widget for hundreds and thousands of blogs. The Chatwing application bridges people from many parts of the world, creating global synergy through the Internet. The shout box can be installed in just seconds, and it can be used for varying purposes such as leisure and Internet marketing. It also allows a user to customize the size, color, and name of the widget. Chatwing is 100% free for everyone.