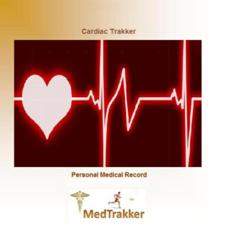 I created Cardiac Trakker to help people monitor their medical care for better quality treatment" said Author Amber Bowden.
(PRWEB) October 30, 2012
The heart is one of the hardest working organs… you cannot live or love without it. Why not make sure medical records are as thorough as they can be. Cardiac Trakker was created to take all the hassle out of personal medical record keeping. When a patient or a loved one is hit with the news that they have Heart Disease, the last thing thought about is all the information that's going to come about during health care. MedTrakker created Cardiac Trakker to alleviate potential holes in information. As we all know, information can vary from doctor to doctor.
The only thing a patient or a loved one wants to worry about when faced with a potentially fatal disease is getting the best possible healthcare possible. The first thing to record is personal/patient information. The things that only the patient knows can sometimes be hard to gather after health conditions deteriorate. Cardiac Trakker has a section to record important life matters such as; lawyer, bank accounts, safe deposit boxes, relatives, friends, primary physicians, insurance policies, funeral and cemetery plot information, locations of birth certificates, death certificates, wills and marriage certificates, who has power of attorney, important phone numbers, etc.
There's a section to record the patient's personal medical history, there's appointment checklists, a place for medical providers comments and a place to record medications and treatments as well as discussions with insurance companies and their comments. There's a helpful chart that lists cardiac symptoms and warning signs to better track if a patient is in danger of heart attack. "I never knew exactly what heart attack symptoms were or what to look for when caring for my husband and mother when their illnesses were in full swing, I feel like I could have taken better care of them, that's why I created Cardiac Trakker… to better inform people just like me trying to care for their loved ones," said Author Amber Bowden.
This personal medical record keeper has a place to record heart and vascular diagnosis and surgical histories and devices used, blood pressure records, medication logs and planners, and daily management calendars to track all appointments and procedures. There's a section for nutrition and weight management, a calorie intake table, a food list and a daily food diary. There's an exercise trakker, a daily exercise log and a sleep pattern trakker. So many things need to be monitored and managed when Heart Disease is present. Why not have the best system possible to track it all. Cardiac Trakker is a must for any patient, and it's portable so it can be taken anywhere so the information is at your fingertips.
You can find Cardiac Medical Organizer exclusively online at MedTrakker. Author Amber Bowden is available for speaking events, book signings and expert quotes and can be reached at Linkedin and on Twitter to answer further questions regarding the whole family of MedTrakker Personal Medical Record Organizers.